Hi,
I am hoping you can help. I have been using Roon for the past few years playing my local music library with no issues.
Recently I started using streaming services and have had consistent dropouts attempting to stream high resolution files on either Tidal or Qobuz.
For example a 24/96 track it will play for approx 6 seconds before I get the "Qobuz/Tidal Media loading slowly due to network connectivity issues"
For a slightly lower res track ie 24/48 it will play for anywhere up to 20 seconds before the dropout.
For CD quality I have never had a dropout.
High Res music plays fine in Roon from my local media library which indicates a streaming/network issue.
I recently upgraded my modem and this allowed an additional 10 seconds or so of playback before the issue.
What is strange is that my config is very straight forward and I have a good modem/fibre service.
Current Setup is as follows:
Core is Antipodes DX Server S/N - 701107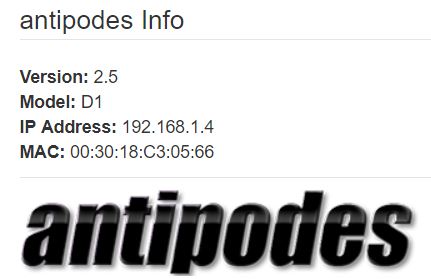 Running Roon Server and Roon Ready
Antipodes Server Connected to Asus Modem RT-AC86U Ethernet Port using Supra Cat-8 Cable.
Router has been set to QOS which prioritises streaming
Internet Speeds are good as below:
Antipodes Server connected to Lampizator Big 5 DAC via USB.
Signal Path is: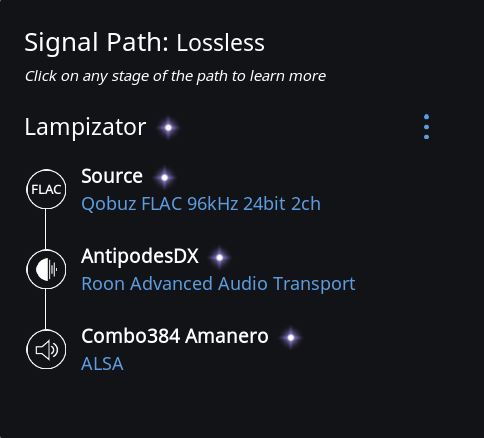 Below are some of stats while the dropouts occur in addition to the Roon Server diagnostics:
05/10 08:56:19 Info: [Lampizator] [zoneplayer] Open result (Queueing): Result[Status=Success]
05/10 08:56:25 Trace: [prebuffer] ready 326400/960000 (34%) @ 0/108 sec
05/10 08:56:26 Trace: [prebuffer] ready 326400/960000 (34%) @ 0/268 sec
05/10 08:56:26 Trace: [Lampizator] [Lossless, 24/96 QOBUZ FLAC => 24/96] [10% buf] [PLAYING @ 0:00] This Life - Vampire Weekend
05/10 08:56:26 Debug: [raat/tcpaudiosource] connecting to 127.0.0.1:45196
05/10 08:56:26 Debug: [raat/tcpaudiosource] connected
05/10 08:56:26 Trace: [Combo384 Amanero] [raatclient] GOT [801] {"status":"Ready"}
05/10 08:56:26 Trace: [Lampizator] [zoneplayer/raat] Endpoint Combo384 Amanero State Changed: Buffering => Ready
05/10 08:56:28 Debug: [prebuffer] sleeping in read – this isn't good
05/10 08:56:29 Info: [stats] 3248mb Virtual, 846mb Physical, 262mb Managed, 0 Handles, 78 Threads
05/10 08:56:29 Debug: [prebuffer] sleeping in read – this isn't good
05/10 08:56:29 Debug: [prebuffer] sleeping in read – this isn't good
05/10 08:56:30 Debug: [prebuffer] sleeping in read – this isn't good
05/10 08:56:30 Debug: [prebuffer] sleeping in read – this isn't good
05/10 08:56:31 Debug: [prebuffer] sleeping in read – this isn't good
05/10 08:56:32 Trace: [Lampizator] [Lossless, 24/96 QOBUZ FLAC => 24/96] [PLAYING @ 0:00] This Life - Vampire Weekend
05/10 08:56:32 Debug: [prebuffer] sleeping in read – this isn't good
05/10 08:56:32 Trace: [Lampizator] [zoneplayer/raat] wait for ready in 0ms
05/10 08:56:32 Trace: [Lampizator] [zoneplayer/raat] Adjusting playback start offset from 50ms to 65ms
05/10 08:56:32 Trace: [Lampizator] [zoneplayer/raat] Doing 'ASAP' Start since we are just playing to one device
05/10 08:56:32 Trace: [Combo384 Amanero] [raatclient] SENT [802]{"request":"start","min_offset":65041666,"stream_sample":0}
05/10 08:56:32 Trace: [Lampizator] [zoneplayer/raat] Endpoint Combo384 Amanero State Changed: Ready => Playing
05/10 08:56:32 Debug: [prebuffer] sleeping in read – this isn't good
05/10 08:56:32 Trace: [Combo384 Amanero] [raatclient] GOT [801] {"status":"Playing"}
05/10 08:56:32 Trace: [Combo384 Amanero] [raatclient] GOT [802] {"time":27838717395007,"status":"Success"}
05/10 08:56:33 Debug: [prebuffer] sleeping in read – this isn't good
05/10 08:56:33 Debug: [prebuffer] sleeping in read – this isn't good
05/10 08:56:34 Debug: [prebuffer] sleeping in read – this isn't good
05/10 08:56:36 Debug: [prebuffer] sleeping in read – this isn't good
05/10 08:56:36 Debug: [prebuffer] sleeping in read – this isn't good
05/10 08:56:36 Trace: [zone Lampizator] PlayPause
05/10 08:56:36 Trace: [zone Lampizator] Pause
05/10 08:56:36 Info: [zone Lampizator] OnPlayFeedback Paused
05/10 08:56:36 Trace: [Lampizator] [Lossless, 24/96 QOBUZ FLAC => 24/96] [PAUSED @ 0:04/4:28] This Life - Vampire Weekend
05/10 08:56:37 Debug: [prebuffer] sleeping in read – this isn't good
05/10 08:56:37 Debug: [prebuffer] sleeping in read – this isn't good
05/10 08:56:38 Debug: [prebuffer] sleeping in read – this isn't good
05/10 08:56:38 Trace: [Lampizator] [zoneplayer/raat] Pausing at streamtime_ns 6167647081 now_ns 27844885042088
05/10 08:56:38 Trace: [Combo384 Amanero] [raatclient] SENT [803]{"request":"stop"}
05/10 08:56:38 Trace: [Lampizator] [zoneplayer/raat] Endpoint Combo384 Amanero State Changed: Playing => Paused
05/10 08:56:38 Trace: [Combo384 Amanero] [raatclient] GOT [801] {"status":"Stopped"}
05/10 08:56:38 Trace: [Combo384 Amanero] [raatclient] GOT [803] {"status":"Success"}
05/10 08:56:42 Trace: [zone] no playback for 5s, suspending to release audio device
05/10 08:56:42 Trace: [zone Lampizator] Suspend
05/10 08:56:42 Trace: [zone Lampizator] Stop
As you can see I've tried to supply as much info as possible