Altair is Connected via usb DAC to Roon Nucleus. Connection is Not possibel.
I've moved this post to the Support category, and flagged the support team for you using this: @support.
They will want to know more detail about your setup in order to help you better. See here:
Hello @Dietmar_Mauer,
Does the Altair show up under Roon Settings -> Audio Tab? Audio tab looks like this: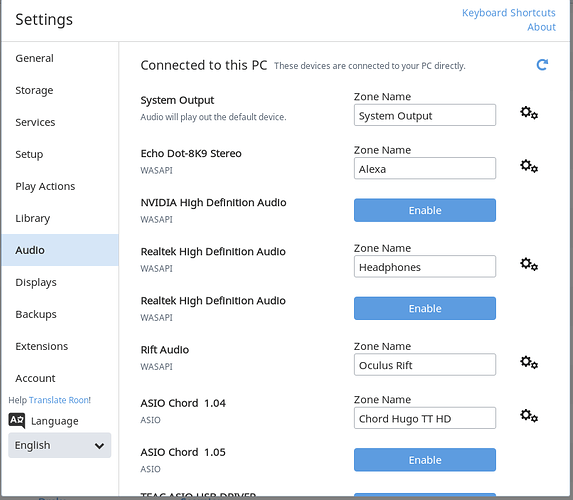 Have you enabled that device prior to selecting it as a zone? You'll want to make sure that you followed these instruction to set that DAC up.
Thanks,
Noris
Now it works but i have a Problem with Qobuz. Start playing Music with Qobuz Import is rejected due to " Track failed to load". Whats wrong? Greetings Dietmar
Hello @Dietmar_Mauer,
Can you please perform these tests and let me know the outcome?
Are you able to play (Assume Form by James Blake) on the Qobuz web player until the track has concluded ? Link to track is as follows: (https://play.qobuz.com/album/i6yfb3qats3rc ). We've confirmed this album should be streamable in every country except Poland and if you are only able to play 30 seconds of this track, please see Mike's post here:
(Qobuz errors: too many failures, playback stopped )
Are you able to play the same track (Assume Form by James Blake) in Roon all the way until completion using Qobuz integration? If you are not able to do so, please provide the exact local time in your country for the playback attempt (ex: 1:36PM on 1/25/19)
If you have a TIDAL subscription as well, are you able to play back the TIDAL version of that track and does it work as expected until completion? If you are not able to do so, please provide the exact local time in your country for the playback attempt (ex: 1:36PM on 1/25/19)
Does logging out and back into Qobuz help resolve the playback issue?
Can you post a screenshot of your Signal Path while the track is playing? You can use these instructions to upload screenshots to Community.
What Qobuz subscription tier do you have?
Thanks,
Noris
yes, i can Play this ohne and all Otter Track on the Qobuz webplayer
no, 4.39 pm on 27/01/19. Qobuz Subskription is ok
yes i can
no i tried it several times
5 i dont know Howe to do it
Hi-Fi Sublime +
Thanks for your help. Regards Dietmar
Hello @Dietmar_Mauer,
Thanks for providing that information. Now that I have timestamps, I have gone ahead and enabled diagnostics mode for your account and what this action will do is next time your Core is active, a set of logs will automatically be generated and uploaded to our servers for analysis.
I kindly ask for you to leave your Core powered on and connected to the internet to be sure that this information reaches our servers. I will take a look at the 4:39 timestamp afterwards to see if Roon is displaying any issues for that timestamp.
Thanks,
Noris
Hello Noris,
my Roon nucleus is always on and connected to the internet.
Regards
Dietmar
Hello @Dietmar_Mauer,
I just checked our servers and our systems have not yet received any reports from your Nucleus, it is currently being listed as offline.
Sorry for the inconvenience, but can I please ask you to use these instructions and manually send us the set of Nucleus logs? I will PM you upload instructions shortly.
Thanks,
Noris
Hello @Dietmar_Mauer,
I saw your private message but as I mentioned our servers are not receiving any reports from your Nucleus. I think something might be going wrong with your network, let's try these simple troubleshooting steps:
Where is the Nucleus connected? If it is connected to a switch, please try connecting it directly to the router to see if that changes anything.
Do you have another Ethernet cable that you can swap out on the Nucleus? Sometimes Ethernet cables go bad, and getting a new one in place may help us out with the issue.
Does the same issue occur if you reboot the Nucleus?
How are you DNS servers configured on the router? Sometimes ISP provided DNS servers do not work as expected, we have seen users switch over to Google DNS or Cloudflare DNS for better networking communication.
I want to help you here, but since we are not able to receive any diagnostics from your machine and you do not want to manually send this information to us, I am only guessing as to what could be the cause.
It's up to you how you want to proceed, but do know that we solve issues similar to your's on a daily basis by eliminating variables one by one until we find the cause. I understand it's more work than you signed up for but we have found that this troubleshooting method works to resolve the vast majority of issues and I think we should go down this path if you want to find the cause of this issue.
Thanks,
Noris
Hi Noris,
I made may homework:
Nucleus is and was connected directly to the router
I changed the Ethernet cable
I rebooted Roon system
I use one network, which is working perfectly to all my applications.
Having done all this changes, nothing changed:
I can use Qobuz without any restrictions using Qobuz platform
I can use Tidal via Tidal and via Roon
I cannot us Qobuz via Roon. It always gives me the information that upload of music data is not possible due to storage problems (see also in previous message to you). Due to HiRes data of Qobuz?
Can you now receive any reports from my nucleus?
If you want to receive login files, please explain how I have to do it and without short terms like DNS servers or ISP.
Regards
Dietmar
Hello @Dietmar_Mauer,
My apologies for the delayed response here, I can confirm that the newest diagnostics have been received by out servers and I am seeing an issue with your Qobuz account. It appears that you do not have the ability to play full tracks from Qobuz, you are simply accessing "samples" as noted in your diagnostics.
The easiest way to confirm this for you would be to try playing Assume Form by James Blake on the Qobuz Web Player (https://play.qobuz.com). Please try playing this song until it has finished, if you are not able to play more than 30 seconds of the track on the Qobuz web player this means that your Qobuz account does not have an active subscription and you will need to get in contact with Qobuz to sort the issue out.
Thanks,
Noris
Hallo,
We are starting from the Start point again.
I can Play Assume Form without interruptions from the Qobuz Web Platform. But I can Not from the Roon Platform behause of " Not being able to Upload Data due to Storage Problems" in the Roon webplayer platform.
It is getting more and more frustrating for me and it seems that you cannot help. It is clean for me that Qobuz is Not Running on the Roon Platform despite your promises.
I payed for Roon and for the nucleus in believing that Qobuz Runs their.
You have to publish that in the Community, i will do so in the Swiss and i will sell the nucleus. Trump would say: Bad thing.
Dietmar
Hello @Dietmar_Mauer,
I have just followed up with you via a PM.
Please take a look at my message and let's discuss this issue further in private.
Thanks,
Noris