One of the advantages using roon is to have all information and appropriate links for an album/artist/composer based on its metadata model. However, I have a problem or maybe a misunderstanding the compositions and the behavior when being used/displayed.
I have an album by the Band 18 Karat Gold. There were no metadata available , so I added the appropriate data to the album and tracks.
In the track editor I added the first composer name (Lothar Meid) to the tracks.

As a result I had the composer showing up properly.
As a next step I added all additional composers correctly to the compositions of each track. Showing one example here.

All added names showed up properly in the track editor.

However, in the album view, there was still only Lothar Meid left. Although the composers show up properly in the credits section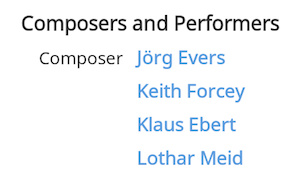 Once I added the composers also to the tracks in the album or track view, all shows up as expected.
My understanding is that a track is a composition, so once I add the composers properly, it should be spliced into the remaining views of the track/album, or is this assumption wrong?
Can one please explain the disconnect between composition-edit and track edit?
Ralf.