Roon Core Machine
Model: Shuttle XH110
Intel(R) Core™ i5-7400 CPU @ 3.00GHz
RAM 8.00 GB
Windows 10 Pro 64bit
Networking Gear & Setup Details
Router: Orbi Pro SXR80, matrix with SXS80 Satellite
Core: wired gigabit Ethernet
Internet: AT&T Fiber (gigabit up and down)
Connected Audio Devices
iPhone 13 Pro Max, iOS 16.0
Alpine ILX-207, USB CarPlay
Number of Tracks in Library
~20K locally
~5K on Tidal
Description of Issue
Just wanted to report some unexpected behavior with resampling in the ARC app while connected to my car head unit via USB. Some may be by design, some not:
My Alpine ILX-207 head unit is listed as being compatible with both 48kHz and 44.1kHz sample rates, but when I set ARC to "original format" and listen to 48kHz tracks (e.g., MQA files from Tidal), it does a sample rate conversion to 44.1:

Maybe it does this because ARC isn't sure about the Alpine's ability to handle 48kHz? Or the Alpine actually transcodes 48 to 44.1 and Roon somehow recognizes this and does the transcoding beforehand?
Either way, I tried setting ARC to "CD quality" in hopes it would just request the redbook version from Tidal, but then I see this: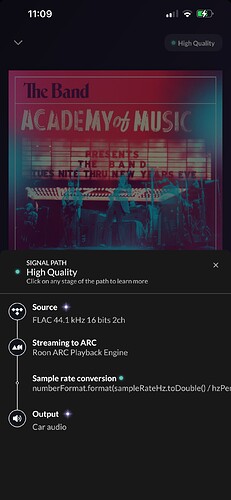 That can't be right? Can it?