is it possible to send you the list of unrecognized albums which may help update your db?? @support
Albums unrecognized in your database are not necessarily unrecognized by Roon. For example: I digitized my cd version of Gershwin's opera Porgy and Bess this afternoon. Conductor: Simon Rattle. Roon automatically identified the album as being performed by Linda Thompson (a folk singer, not an opera conductor). Made a joke about it here. One quick identification action and there was a second, correct album in Roon's database.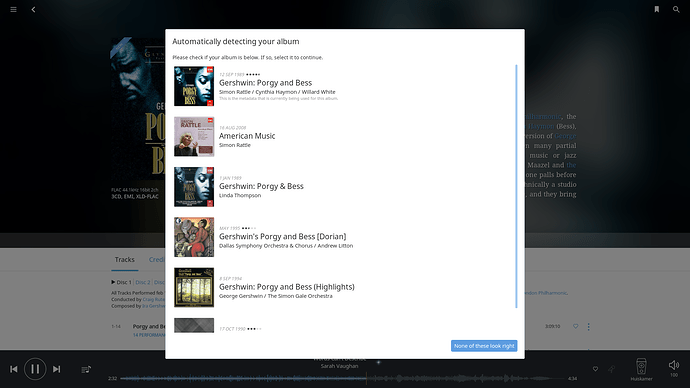 You should write here about any problems you might have with identification.
Those are albums I have tried over and over to identifiy and could not find a match.
I have around 1050 albums. At initial setup about 80 were unidentified, however after a few hours of effort I hve about 35 albums that are unidentified
Are these relatively rare / unknown albums? If not, it would help if you could include their allmusic.com placeholders. This will speed up the process to update the metadata in the databases of Roon's partners. I have around 14k albums, of which around 10 % (mainly classical) still is unidentified. Hopefully, Roon 1.3 will improve upon this

Alice and The Glass Lake Chimaera
Various Artists Art Of Recording Vol.3
The Beatles 1+ beatles 1 is in database , however extended edition 1+ is not
Bee Gees One Night Only --> this version is not on roon db
Dietrich Fischer-Dieskau / Gerald Moore DIETRICH FISCHER-DIESKAU SINGS SCHUBERT LIEDER
Dietrich Fischer-Dieskau / Gerald Moore DIETRICH FISCHER-DIESKAU SINGS SCHUBERT LIEDER
Dietrich Fischer-Dieskau / Gerald Moore / Dietrich Fischer-Dieskau / Karl Engel DIETRICH FISCHER-DIESKAU SINGS SCHUBERT LIEDER
Dietrich Fischer-Dieskau / Karl Engel DIETRICH FISCHER-DIESKAU SINGS SCHUBERT LIEDER
Emil Gilels Beethoven: Eroica Variations, Piano Sonatas Nos.21 & 23
Eric Bibb A Selection of Analogue
Fazil Say Tchaikovsky piano concerto 1 & Liszt Sonata in B minor
Frederic Rosselet Frederic Rosselet
Various Artists Greatest Rock Ballads
Joachim Eijlander / Josep Colom / Smoke & Mirrors Percussion Ensemble / Thomas and Eva iFi Quad DSD Sampler Album
Luciano Pavarotti Pavarotti 24 Greatest HD Tracks
Marie Mokati Break Loose
Mats Bergström Schubert Arrangements
Natural Jazz Recordings Natural Jazz Recordings
Various Artists Opus3 DSD Showcase
Petteri Iivonen Petteri Iivonen and Kevin Fitz-Gerald: Art of the Sonata vol. II
Pure2 -Ultimate Cool Japan Jazz- / Suara Pure2 -Ultimate Cool Japan Jazz-
Sandy Lam SANDY LAM - SACD BEST COLLECTION 16
Various Artists Sennheiser HD 800 Experience
Simon Kinny-Lewis Strat Attack
Simon Kinny-Lewis Street Blues
Sir Georg Solti, Wiener Philharmoniker Wagner: Siegfried
Various Artists stereo256 - YAR65004DSD
Various Artists Timeless love
Various Artists Women's Stories
tokyo zawinul bach Afrodita
Are you sure you're looking well enough? Admittedly, sometimes it can be a challenge to find albums in Roon, but I have a few of the ones you mention and sometimes you have to be a bit creative in your search. As I said earlier, I hope (and expect) this will be improved upon in Roon 1.3 – especially with classical music!
[EDIT] P.S. Not trying to patronize you, just trying to help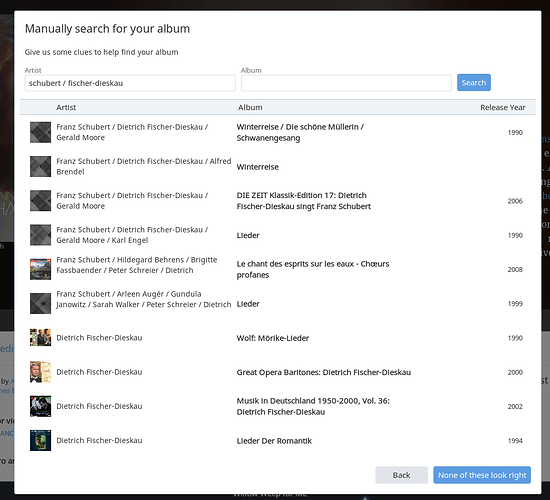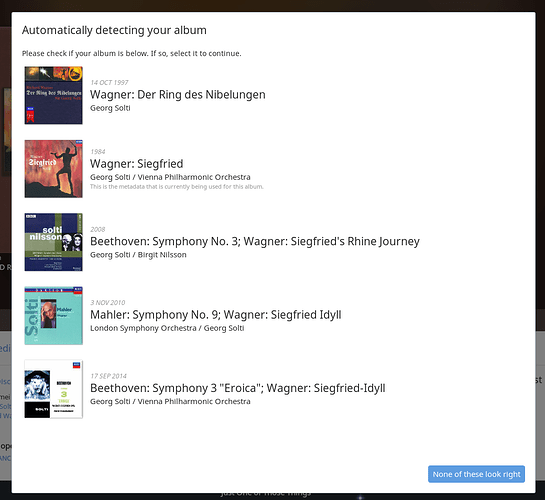 no no ididnt get it wrong its ok
ı find similar albums however the regarding dietrich fischer-diskeau… it is impossible to find the correct version … track numbers and titles don't match sometimes the disknumber doesn't match
btw the mentioned ones are sacd rips and most of the listed albums above are sacd rips and and the rest are mostly digital downloads
and sorry for the lis tit is a mess… and 1 or 2 albums have been listed incorrectly they are in fact identified but somehow they appeared in this export list
In fact 30 out of 1050 ( maybe more than 110 if you take box sets into account) is really a good result,
And by the time most of the above will be covered iam sure
however I am disappointed to see that the bee gees and the beatles are in the unidentified list
the rest is mostly compilations (various artsits)
Are you checking all the versions of the album when you identify?
Roon can display a number of different versions. You can see them under the album artwork.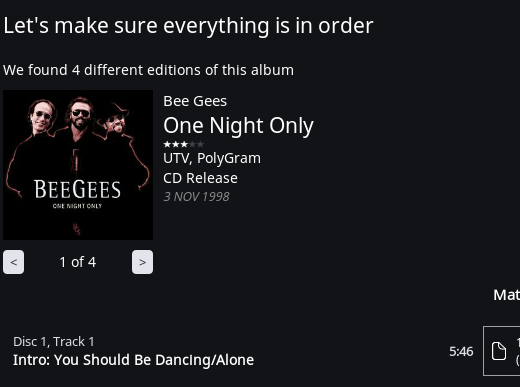 This album has 4.
Cheers, Greg
What @Greg said. For instance, The Beatles "1" has 3 versions in the Roon database, and the 2nd of these 3 versions has 11 different editions, the 4th of which is called "1+". Could this be the edition you have?

In my version total track count is 31 and Track 1 is Intro you should be dancing and track 2 is alone
However on roon versions those 2 tracks are presented as 1 single track maybe as a medley. The video version matches those 2 tracks however number of tracks is 34 on the video release
Use the video version, since you seem to have a DVD rip and use the 32 song version. Make sure the songs match.
This will give you Roon metadata.
Cheers, Greg