Content you're reporting an issue with
Charles Mingus composition Orange Was the Color of Her Dress, Then Blue Silk is also credited to Julie Christensen as a lyricist. While Ms. Christensen may have written some lyrics for her own recording - I cannot find it if that is the case - she is hardly THE lyricist for any performance by Mingus himself. Yet there her credit is in Roon for every one of the performances. When I edit any of these tracks to delete her credit as lyricist she then shows up as a Composed by along with Mingus. How do I get rid of her credit once and for all? For what it is worth she does not appear to be credited as composer or lyricist in allmusic. Once I delete here as a lyricist and she appears as part of composed by she does not appear in the editable credits so I do not know where her credit comes from.
Have you made any edits to this content in Roon?
Yes, as noted I tried to delete Christensen as Lyric ist only to have her then appear as a (undeletable) Composer.
Is the album identified in Roon?
Yes, all the performances are on identified albums.
Is this content from local files, TIDAL, or Qobuz?
Local files only
Screenshot of import settings
Track entry before editing:


Edit credits page after editing: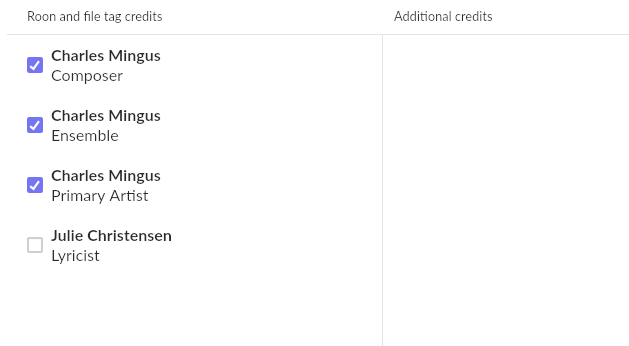 Track entry after editing:


Description of the issue
Issue described above
Edited to correct spelling of Christensen.