It should show up in this drop down, in Device Setup -


i don't have a mini i have an imac and i don't know how you got the above screenshot page. i have looked in device set up and don't see this info there. can you please explain where i should be looking?
when i hook the imac direct to the mcintosh i am still not able to go past dsd 128.
Late Night, with my earlier question I was trying to see, if you set the SOtM to Native, and then looking in Roon under the Settings/Audio DSD Playback Strategy - what options you see under the drop down. For example, for one of my DACs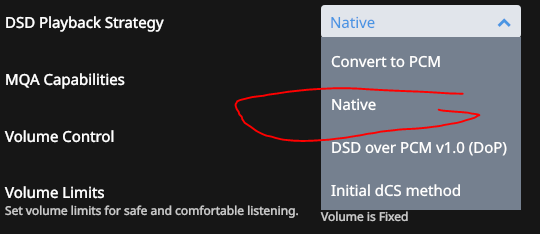 If Native is NOT on the list, then that tells you that Roon does not think the SOtm connected to the McIntosh can do Native DSD and is limited to DoP playback. Roon sets the options based on what the DAC or Streamer communicates to Roon about its capabilities.
The best step, imho, would be to contact SOtM support and see if the SMS 200 supports sending native DSD to the MHS150. Also, since the McIntosh site makes no reference to the MHS150 working with Linux and since they only provide drivers for Windows, you should ask McIntosh whether or not the MHS150 can work with a Linux device.
Hi @late_nighter23,
This suggests that while DSD 256 might be the max rate advertised, it is not possible to achieve this rate on Mac or Linux-based systems. I suspect you need a driver for the McIntosh and the driver to reach rates of DSD 256 is only available on Windows, so you will be limited to just the DoP rate here which is DSD 128. You can confirm this aspect with McIntosh support.
I contacted McIntosh and was told that my iMac is not capable of doing dsd 256 and they offer no drivers. Then the gentleman tried to talk me out of upsampling and the conversation dissolved shortly thereafter.
This topic was automatically closed 36 hours after the last reply. New replies are no longer allowed.