Hi,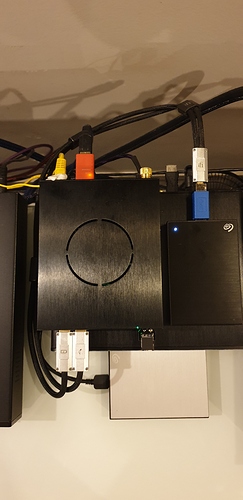 I am running the usb bridge signature with latest moode version 6.x.x
While my 2TB hdd works fine, I cannot get the 5TB working … is there a limit on the size of allowed hdds by the usb bridge or moode ? It does regen MFD sporadically but hangs while it often does not even get detected.
Having thought perhaps power required is higher for the 5TB hdd than the 3 individual/independent usb ports, I power the hdd via a twin head ifi gemini cable with separated power and data cable together with an old ifi usbpower as I hope to isolate power to the hdd from the usb bridge.
The 5TB hdd lights up but does not get detected by the usb bridge … does the power line need to be connected by those usual twin head type A cables that parallel the added power supply and the usb bridge but I will then not achieve having separate power and signal cables nor use isolated and better ifi usbpower ? Perhaps missed common ground or something else in those.twin head cable for added power ?
Sorry if my described request for help is confusing and will be most glad to clarify on any query for my use case.
Meanwhile, I have the 2TB hdd running fine with both usb type A connectors of the ifi gemini dual head cable plug into the usb bridge per photo which may help to explain a little but not preferred … without 5TB and not using ifi usbpower to help isolated the hdd and the usb bridge signature.
Cheers.
Richard