Hello,

,
I am new to ROON, but even though I love the software, I cannot get it running flawless, i.e. running without background "veep".
My problem is: every time I start a song from my ROON (iTunes) library or with Tidal, I get a high veeping noise in the background. The beeping starts and finishes as long as the orange or green button next to the song titles are shown ( showing the source path). The beeping starts whatever signal way I choose.
My setup is:
Mac Mini 2014 (not yet headles), running as my ROON core ( software Roon server) with about 4000 music titles on iTunes stored directly on my Mac.
The MacMini is connected via USB, an audioquest jitter and dragon fly and an Evergreen audio cable with my Marantz AV 8802A. On my Marantz I have a 5.1 setup with ELAC loudspeakers.
As I am new to Roon, I have a pretty much standard ROON setup.
Any ideas how to get rid of this annoying veeping noise ?
Maybe this helps: I have first discovered the problem, when playing high resolution files ( my library has Qobuz highRes audio files ) looking at the path. I have included a picture, maybe that helps.
Thank you for your help.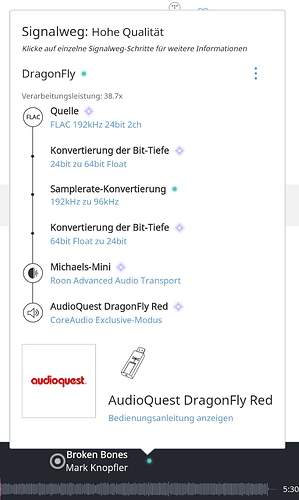 October 19, 2018
Preformatted text