I'm fairly sure classical pianist Vladimir Horowitz did not record Anthony Horowitz's Granny as an audiobook.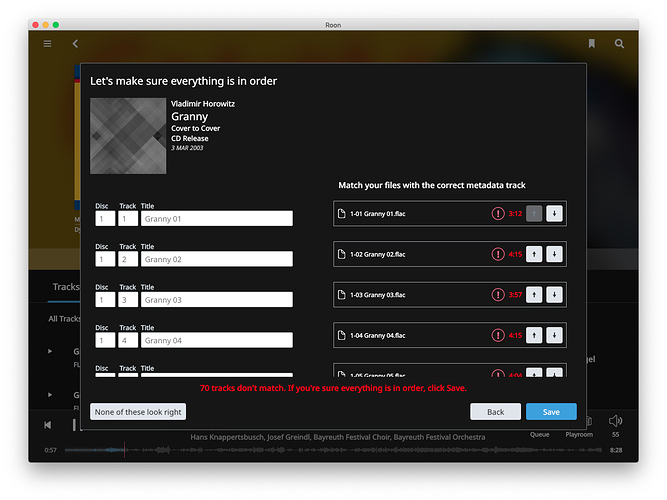 Hi @dpstjp,
The Granny 01, Granny 02, etc. are coming from your file tags in this case. The version of Granny that we have here does not have any track data, so the track information only comes from the information in your files. If you update your file tags with the correct track names things should look correct here.
Let us know if you have any questions!
The track data are definitely mine. The artist is coming from your database though.
Vladimir Horowitz is a pianist, and does not narrate audiobooks to my knowledge. Anthony Horowitz, however, both wrote and narrated this one.
Hi @dpstjp,
Apologies — I misunderstood the issue here. I see the problem now and I'm reaching out to our metadata provider to make a correction.
Thanks for the report!
Hi @dpstjp,
I checked with out metadata provider on this. Typically they do not support audiobooks in their database, and they weren't able to find enough data on this release to verify the correct information. Since this was the case, they have removed the album from their service. Once this update has taken place in your Roon library, only local data will be used.
You have our apologies for the inconvenience.
Thanks, @dylan. I suspect I could stick it on MusicBrainz as they would appear to allow CD-based audiobooks.