Roon Core Machine
QNAP TS215J 8G RAM (2xSSD 4 Tbye, RAID1), Roon only
LAN trunc (max CPU 13 %, Roon 814 QNAP & Client
Networking Gear & Setup Details
LAN Gbit CAT 7, Zyxel 1900-24 (2x: NAS-Switch cellar - CU-Fiber - Fiber -CU → Switch → LINN / LSX
Connected Audio Devices
LINN DSM via CAT7, KEF LSX via CAT7
Library Size
19000 tracks
Description of Issue
The volume increases reproducibly to max after 1 second. It is not possible to turn down the volume with the Roon app on the Windows Surface4 laptop or on the Iphone 12. As soon as you release the slider, the volume returns to max within 3 seconds.
Roon 1.8 814 on NAS (QNAP), 814 on client Linn DSM/3 (roon ready).
All software versions are up to date. (operating system, firmware, etc.)
The same thing happened (rarely, since not often in use therefore not detectable) with my KEF LSX (only roon tested).
Is there a solution or a hint? Thanks in advance.
Possibly it depends on the memory leak. Roon QNAP consumes 5G RAM during operation for about 30 days (starts with 300M RAM) - after rebooting the core the problem does not occure anymore. This is a workaround but not a solution

as I can't always check memory consumption on the core before use.
In the meantime I restart Roon Core every night at 02:00 automatically.
My family, neighbors and I thank you very much.
Screenshots are following: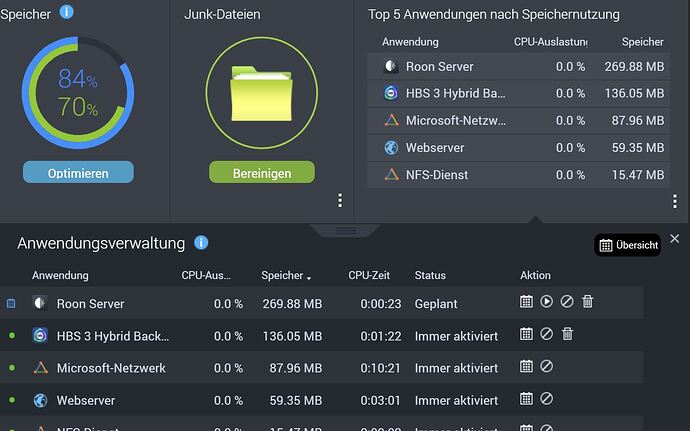 - after restart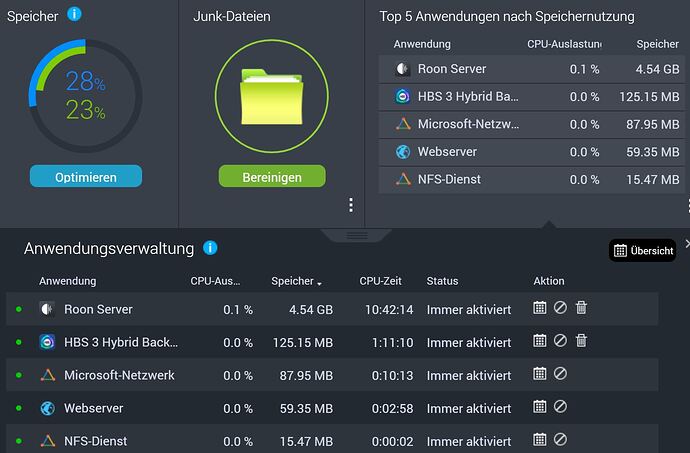 before restart the core