Hi @Noris,
as per your request as a new topic:
I have this washed out behaviour now on the Roonserver as well! Roonserver was ok with Build 521, with 528 its washed out.
Here are the driver data for the Windows 7 machine:
USER-PC Roonserver Windows 7
Treiberdetails
Provider
Intel Corporation
Version
9.17.10.3347
Date
31.10.2013
Gerätedetails
Adapter Compatibility
Intel Corporation
Video Processor
Intel® HD Graphics Family
Resolution
1366 x 768
Bits Per Pixel
32
Number of Colors
4294967296
Refresh Rate - Current
59 Hz
Refresh Rate - Maximum
59 Hz
Refresh Rate - Minimum
49 Hz
Adapter DAC Type
Internal
Adapter RAM
2,06 GB
Availability
Running at full power
Status
This device is working properly.
Location
PCI bus 0, device 2, function 0
Device Id
PCI\VEN_8086&DEV_0126&SUBSYS_21DA17AA&REV_09\3&21436425&0&10
The logs I sent to you earlier.
Here is a screenshot, taken from a remote session with Anydesk, but identical to what it looks like at the console: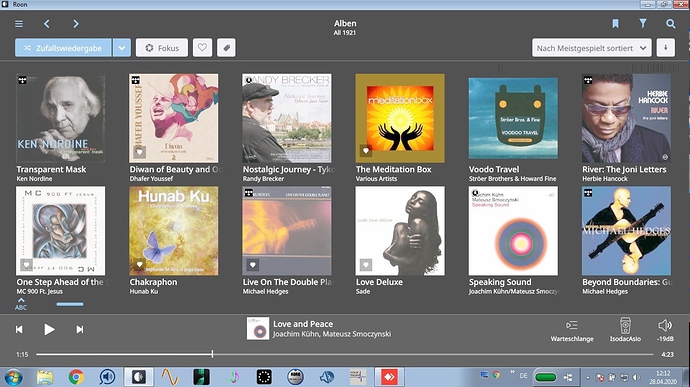 The error seems to be in the way Roon handles the shading between black and white, as these extremes come out correctly. Many releases ago I had the impression that Roon started "enhancing" the album art, so maybe a solution would be to just make an option to override this image dsp.
Regards,
Achim