Here's my prediction:
MQA first unfold
Mobile streaming
More streaming services e.g. Deezer
We are in fantasy land but Major UI upgrade and changes is my guess.
That Jaguar SUV looks pretty nice.
I think the Roon-team should take a collective december holiday, families and all. Come back in january fresh and full with new ideas, and I will wait a little longer and be amazed in six months or so…
QOBUZ - first and foremost.
It's winter time for many so the desire to stay inside and play tunes is probably higher up the agenda than being out and about…that said it's 33-36deg C pretty much every day of the year where I am and I get my fill of music everyday regardless.
As much as I would like to see mobile streaming I doubt that's on the cards.
Small steps for many of these things in the pipe are probably the way things will play out for some time from what we have experienced in the past.
I fully appreciate the guys keeping Mum on dates and timing for anything coming down the pike … you are damned if you and damned if you don't.
The team has already made it pretty clear that the mobile feature and the new UI are long term projects so I would be very surprised if we see either of those this year or even early next year.
MQA maybe, they have said that is not a technical issue but a commercial one. Those kind of things can be fixed quickly or they can go on for ever all depends on the parties involved.
What I would like for Christmas from Roon is the long awaited improved Radio function. The holidays are the time of year I use this feature most so an update on that would be very welcome.
I would love a dedicated portable Roon player which supports, Tidal (online/offline), 80GB of local file storage. Contains an MQA DAC , includes a lifetime reduced cost licence (can't be used as a server to other devices - but can be used as a remote and end point. Optional dock would provide high quality connectivity options. Ideally by Mid-December !
Cheers
Tom
I always thought that after Nucleus, a Roon DAP would be possibility. Like ROCK, a DAP running Roon OS, would make some of the mobile issues easier to surmount, imho.
I've seen items related to volume control in the very next release, not much more, together with the integration of the now-almost-complete German and French translations. But I am quite confident we'll have some more in the next weeks/months. To be honest, I am not really missing anything today in Roon, the more I use it the more I love it.
I've a strong feeling that MQA is coming to Roon before end of the year. Probably a couple of weeks from now.
I'm also (wishfully) betting on MQA because of the wink Mike gave when he wrote about the surprises coming out before the year ends.
Perhaps the possibility to use VST and AU plugins in Roon.
Then I am finally rid of my Dirac problem.
I would suggest you look elsewhere, the odds of VST and AU support being added is pretty much 0 in my opinion. The main reason being they are very host system dependent and would require being implemented in each OS's particular roonbridge not the core because of it.
That ship has sailed with implementation of DSPing in the core.
I agree. Room/Speaker correction can be implemented via FIR convolution either with commercial of free solutions. Dirac is out from this scope with their proprietary drivers.
This is in response to the Qobuz suggestion:
I don't think that is likely unfortunately. I have suggested linking with Roon again to Qobuz recently, explaining how they are losing customers, like me, to Tidal and that they could potentially capture a lot of new users as well. The response that I received suggested that they are not at all interested in pursuing that route. They just explained how they were concentrating on building their app up to provide the best streaming experience and ignored all my comments
Hope for Qobuz in the near future.
An improved radio function is also on the bucket list …
And Qobuz.
Tidal's target is not very vast?
Presumably is very numerous - but definitely not vast?
Did you do a search on this topic? It's everywhere on this forum: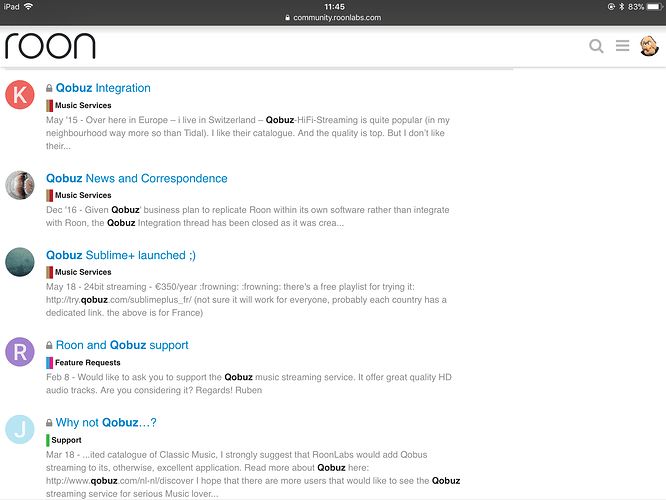 Bottomline: Roon has tried several times, but Qobuz just doesn't want to cooperate. They removed all user requests on this from their website and they have built their own "Roon" app. Roon's COO Danny Dulai said the following on this matter:
Sorry if I sound a bit annoyed, but people keep "blaming" Roon for this, sometimes in quite explicit ways, while Roon can't do anything if Qobuz just keeps refusing (as does Spotify). The only thing that might help is if you too complain to Qobuz.