This thread is to discuss live music you have seen or are looking forward to seeing.
Not really a concert through Roon, but a gig I'm really looking forward to.
This Saturday night. Corner Hotel. Ash Naylor, Danny Leo and others will be doing a one off celebration of the release of Physical Graffiti. These are not your usual covers band stuff. Here is Vika Bull with much the same band doing "Since I've Been Loving You" from the Song Remains the Same event in 2014. I'm in that crowd losing my worried mind:
Here's the drummer Danny Leo, in his day job with King of the North:
Edit: I went, it was awesome. The bottom end was fantastic (Jim Coelli from Sheriff broke a bass string).
My wife and I are off to see Adele on 30th March. It's obviously for the wife as I wouln't possibly be that interested


I saw "Dream a Highway" in Melbourne on Saturday 20 February. Loved every minute of it. Haas Kowert Tice, Willy Watson, Dave Rawlings Machine and Gillian Welch.
Saw Dan Patlansky performing an acoustic set on Sunday evening. He was special guest for Satriani's Shockwave UK tour…25 shows in 10 countries over 33 days. In May and June he'll be touring Germany and the U.K. If you love guitar and Blues/Rock you're in for a treat.
Here he is doing something that should be well known to many

Going to Gary Numan in NYC in May.
Went to "A Day on the Green" at Rocheford Winery last night. Was sitting towards the front with some truly awesome PA. Kick drum was hitting our chests, but ears weren't ringing afterwards. Nice mixing. These were the bands in their hey-day, we're all a bit older now:
RatCat

Died Pretty

The SunnyBoys

Violent Femmes

Hoodoo Gurus

Like Wow…the Gurus. Had the pleasure of seeing them twice in the 80's. Have not listened to them in a long time, added to the queue. Thanks!
Ratcat played my high school dance in about 1990 !
In the last few weeks I've seen Black Sabbath and Iron Maiden who were both superb, tonight seeing Henry Wagons in a nice small venue…
Went to see the Boss yesterday in the Hague. Never been to the Malieveld before, but the 65.000 people fit easily and the organization was very good.
Great show as ever, despite the slightly unusual setlist. Max really was in great shape an Jake is a real part of the E-Street band now. Most notable song for me was Jungleland, they were just monumental there.
The Boss has got Stevie van Zandt on one side of him and Nils Lofgren on the other. Amazing. I would pay to just watch Nils; big Grin fan here.
You have too many similarities in taste to mine… you sure you haven't hacked my server ?
Saw him last year, one of the most enjoyable live performances I've seen.[quote="allineedis, post:11, topic:8208"]
Went to see the Boss yesterday in the Hague
[/quote]
Yeah, Nils was on top of his game. Had some real nice solo's, especially during "Because the Night". Stevie was a bit more in the background compared to other gigs I went to.
I must admit that I did not hear of "Grin". Please forgive me! I will have a good listen later tonight.
Actually, NIls is a hometown boy for me, So I've been to many Nils concerts. Love his solo work. Grin was before my concert going years though.
Saw Marty O'Reilly & the Old Soul Orchestra on Saturday at The Convent in Stroud - superb. Great musicians - the violinist was something else. They're a relatively new/young band, well worth checking out. First time for me at the venue, which is really intimate & eclectic. The video shows them playing the same venue last year.
Time to revive the live music topic as this the source of all the new music we will enjoy in the future.
For my sins I volunteer at a live music venue putting on shows monthly through Spring, Summer and Autumn in the UK.
We record and film the shows for the Artists and our personal archive and are very proud of the sound quality we achieve doing this. We employ professional sound engineers to run out Mackie Digital 32 Chanel sound system. Examples are available with permission to enjoy via our site or YouTube channel.
The quality of the Artists we are privileged to host astounds me every time and it's great to meet and get to know many of them.
This is a not for profit operation based on the 'House Concert' principles. A labour of love.
For 2017 I encourage you all to seek out some of these artists as they come to your local area, they do travel all over the world. Find your local small venues and support them.
The cost of seeing some of the best musicians playing today is minimal and the rewards you will gain are priceless.
Have a great new year and enjoy the Live Music. Chris
@andybob I hope you don't mind me changing the title of the thread, I presume we must all be going to more concerts than are being recorded here, so perhaps making this a companion thread to the "first concert" one may increase traffic.
And you've guessed it, I'm just home from a gig, that my son bought tickets for me and him to go and see.
Hamilton Leithauser.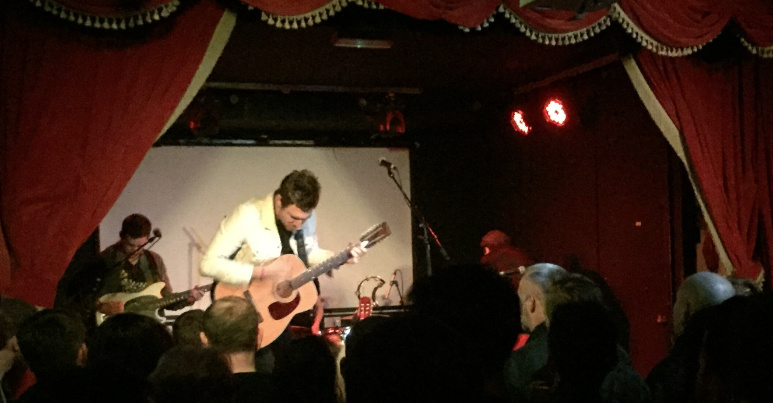 Very enjoyable gig. My son also got me the album but I never connected with it emotionally, but live this was certainly a different matter. Great to see such a big crowd in a cosy enough venue, The Workmans on Aston Quay in Dublin.
.sjb
Recent concerts include Garbage (mixing not so good), the Cult (just amazing, Andrea danced her little cotton socks off) and an awesome celebration of brass in Australian rock music by Jack Howard's Epic Brass (guest appearances by Sean Kelly, Penny Ikinger, Paul Stewart, Steve Lucas, Ron Peno and Fiona lee-Maynard !)