As usual, I start writing this new topic in a state of pure bewilderment at the fact that a seemingly very simple problem can turn out to be such a complex issue…
Let me describe the problem at hand. I have the following album in my library: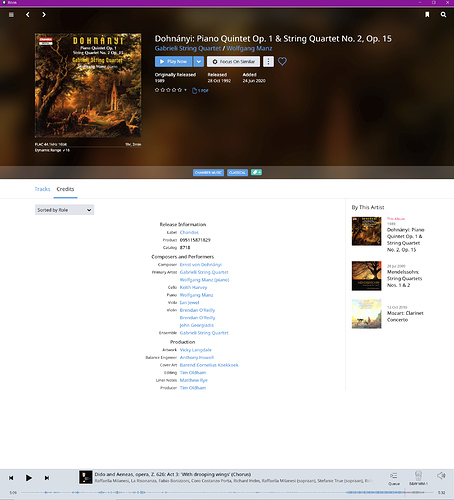 The album has been identified by Roon.
The two violinists named under "violin" are of course one and the same, but there is a small difference in the spelling:

The Roon artist O'Reilly is spelled with a closing quotation mark (which is wrong!) while in my tags his name is spelled with a straight apostrophe.
I thought this would be only a minor challenge that I could defeat in a minute. Little did I know…
In my optimisim I thought that renaming the Roon artist O'Reilly to its correct spelling would solve the case. But after doing just that I got stuck with two identically spelled artists:


In an only mildly less optimistical mood, I thought that merging these two artists would solve the problem, but… I simply can't find any Brendan O'Reilly under Artists!!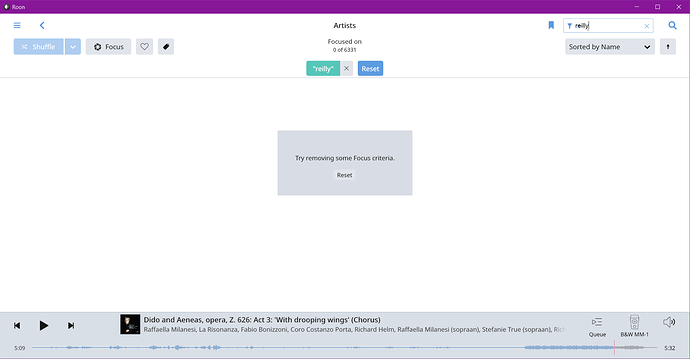 Then I thought that perhaps only artists with birthplaces and years would be named under Artists, but not so. Perhaps if I took the trouble to give Brendan O'Reilly the status of "Primary Artist" in the track credits of the aforementioned album? No effect.
So now I'm stuck. Why can some artists that are listed under Track Credits be found under Artists while others can't?
And how can I fix the double persona problem of Mr. Brendan O'Reilly?
(And by the way, @dylan, I still can't use the name prokofiev at the start of a search string!! Is any progress being made with that issue?)