I believe this would be this item in the second post on this thread:
I agree with comments that RoonOS is meant to be minimalist but that does not mean without function. Building a web interface as proposed by @Davide_Alessio would actually be a great option of a very minimalist OS and interface that negates the need for a remote entirely. Is it critical for me? No.
But would it be a sensible and simplistic function for a system whose sole purpose is to support music listening? I'd say yes it is.
This thread was started over one and a half years ago and there is still no sign of Rock 2.0.
Rather than trying to squeeze extra functionality in now, is it possible a version that supports UEFI can be released to maintain current available hardware support (>NUC11)?
Anything else on top will be a nice bonus that can come later IMO.
Would love to understand why it's taking so long.
Will Roon OS 2 will be next update after Roon 2.0?
@Danny As this thread has been reawakened, may I offer this:
Now that we have opened Roon to external connections it would be helpful if a focus of RoonOS 2.0 (or 1.x as it is urgent) could be super-hardening the platform. Processes not running as root, potential memory violations trapped, connection attempts optionally logged to an external syslog, etc.
And if possible you should have a bug bounty and get some of the security community to red team it within the parameters of a disclosure scheme.
I agree. I've been holding off on buying a NUC to install ROCK because at this point the only hardware it can be installed on is a couple years old. If I'm spending the money, I want it to run on the latest hardware (NUC12). The other features can be added as updates to 2.0, but please release UEFI support for newer NUCs.
For your information, i just bought one new set of NUC10i5fnhn and the manufacturing month is March 2022. So I understand there is very large supply in the market for NUC10.
I would greatly appreciate some energy / power management options in Rock! Especially now that Arc allows access from outside the home, it would be great to be able to turn on and off rock from inside the Arc app. If that's not possible, scheduling turning the server on and off would already be a good improvement. It would reduce a lot of energy wasted while Rock is sitting idle!
I think it's a good point you mention but it's worth noting that a 7i5 can run a Roon ROCK core very easily for all but the most demanding users and that uses much less power than the latest NUC's.
Yes, as I commented here Intel NUC - Roon Rock - only for TIDAL - #8 by simon_pepper with this chart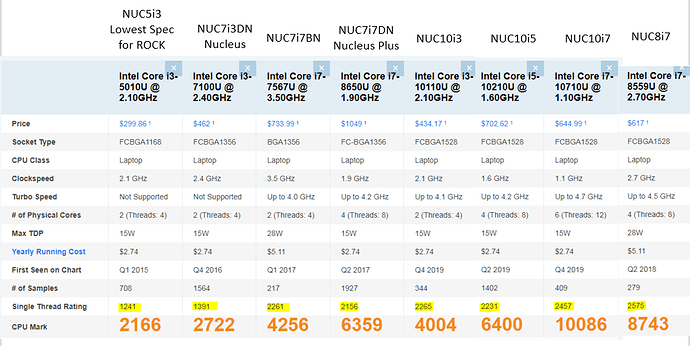 Some of the best 'bang for the buck' is still with the NUC7 line, with a TDP of 15W, unlike the NUC8 range, you can get as good as a NUC10, in terms of single thread performance (which is the important factor to ROCK's performance)
I think the problem is more about availability. It's really difficult in many parts of the world to get your hands on a nuc 7- or 8-series.
Yes, I had to go secondhand on a NUC7i7DNKE to replace the previous NUC5i3MYHE I had been using since 2016.
Just updated the BIOS, put Corsair Vengeance SODIMM 16GB (2x8GB) DDR4 2400MHz CL16 Memory in and a new Samsung 970 EVO Plus 250 GB PCIe NVMe M.2, and loaded up ROCK, for a good-as-new Roon Core server.
Have the existing DDR4 RAM and M.2 SSD that came with it as spare, plus 2 NUC5i3MYHE (with 8GB and 240GB SATA) loaded with ROCK as backup/reserve servers, just incase.
If NUCs are getting in such short supply, I may offer one of these for sale, to help someone out, though they are the minimal supported NUC on the list.
I picked my 7i5 up second hand too. It just made more sense at the time. I had assumed that more of them would be coming onto the market as people using them for full blown windows machines will move onto the newer machines.
I'm struggling to get an Akasa case for mine at the moment. It's on backorder but I think they've been discontinued.
I managed to fine one from a supplier in Germany who had new old stock.
Let me know if you want the details.
I was waiting to see if the HDplex NUC cases are coming back in stock any time soon, as I think for a DIY Nucleus they look better than the Akaska cases.
But then my NUC is away from the 'frontend' components as part of the backend with the NAS units, routers, etc.
only one!support to uefi start mode