I thought that was the very definition of going to Wisconsin

You will not find me arguing with you on that score

Jim McCulloch is still making great music after the Soup Dragons ceased. His 'Green Peppers' and 'Snowgoose' albums are excellent. Check out the Snowgoose version of 'Shifting Sands' originally by 'The West Coast Pop Art Experimental Band'
I'm also a fan of his recent solo album.

I had 3 false starts when recovering, I'd feel better, try to get back to normal and then hit a wall. Wiped out, sleep and repeat for 7 days. 11 days on and off before I was better. Drink plenty of water and rest well. Get well soon fella.
Well this is not good for my health!!
For whatever reason both my Android devices are now refusing to even find my Roon Core.
Rebooted everything, reinstalled Roon app on both but still nothing.
WTH??
It's not my WiFi network as my iPad mini on same network sitting right next to them is working as it should ( fortunately I guess)
And my Core can actually see them as endpoints!
Which is even stranger.
Any ideas??
Funnily enough I had it this morning on my OnePlus 9 pro which never fails me, but a reboot fixed it.
Then my PC Roon crashed and burned and I had to wipe it out along with a couple of reboots to get is all working again.
Never normally have any issues.
Reboot router, WiFi and switches anyway as it's possible something not sending the multicast traffic along.
Router and core rebooted numerous times.
Only one unmanaged Ethernet only switch in the music room.
Can't figure it as the iPad is working perfectly on same WiFi.
Well that was odd.
I had to punch in 255.255.255.255 and it then found core instantly.
Gremlins!!
That's an old one, not had to do that in a long time.
It's related to multicast, but I have not given that advice in a long time.
Well happy listening and sleep time for me

I know Paul Kossoff is barely on this disc but whoever fills in for him does a dead-on imitation of his unique style.
I believe most of it was Paul Rodgers, who is a decent guitar player in his own right.
So after moaning about the SQ of Rainbow albums I did some digging around. Granted, not much to be done with most of them, but the LA mix on the Deluxe version of "Rising" is at least listenable

There is a worst album covers thread that this could also be posted in

@Barry_Scotton another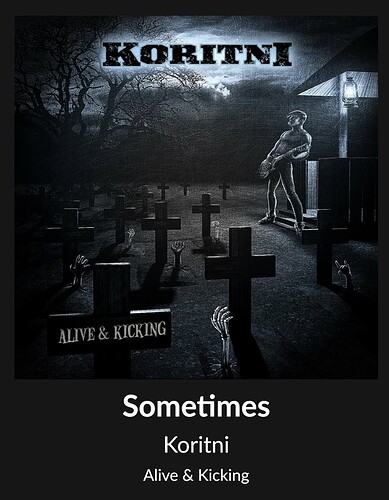 You're right. It fits perfectly in that thread

. But music-wise I would rather have it here.