Core Machine (Operating system/System info/Roon build number)
Windows 10 / tower PC / 1.8, build 756, 64 bit
Network Details (Including networking gear model/manufacturer and if on WiFi/Ethernet)
Everything over wired Ethernet (except of course the iPad remote) - this is not a network problem…
Audio Devices (Specify what device you're using and its connection type - USB/HDMI/etc.)
Devialet Expert connected by Ethernet
Description Of Issue
I am on an iPad Pro (10.5 inch) running the latest iOS and Roon app.
I start with all my albums.
When I just look at focus I can see an "View more" item in the Composer column - circled in red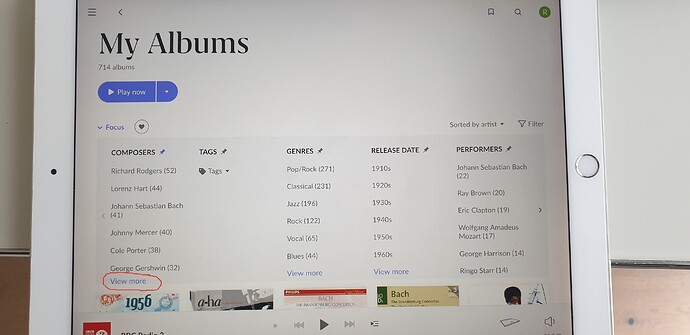 However Composers really only make sense for classical albums, so I start by focusing on the genre Classical.
Now when I try to further focus on Composers, there are only the first 5 listed and suddenly the "View more" is missing - and no, there is no way to scroll in the focus-window.
What do I need to do to be able to see all the composers in the focus listing when I have only the Classical albums selected?
(Going the other way - first chossing the composer and then the classical albums - is not a practical solution as the start of the process is a bookmark for the classical albums. Also you need many more steps and need to do a lot of typing to find the composer.)