Content you're reporting an issue with
Pau Casal's recording of the six Bach cello suites; ripped from the most recent Warner release.
Have you made any edits to this content in Roon?
roon immediately identified this when I recently ripped it, but roon's metadata provider somehow decided that each and every track was Suite for solo cello No. 1. I edited this in mp3tag to fix that.
Is the album identified in Roon?
Yes, but incorrectly - see above
Is this content from local files, TIDAL, or Qobuz?
local files
Screenshot of import settings
Description of the issue
Now that I have things with at least the correct WORK and PART , I am faced with roon and/or its metadata provider deciding that most of the tracks have lyrics. To wit, the prelude to suite 1 has the lyrics for "If I Had You"; allemande of Suite 1 gets "Skylark", etc. You can see that each track has that little microphone logo:

Here are the lyrics for Suite No. 3, Prealudium (note that it says Suite No. 1 but it is taken from the three dots at Suite 3, Movement 1 after having mp3tagged it)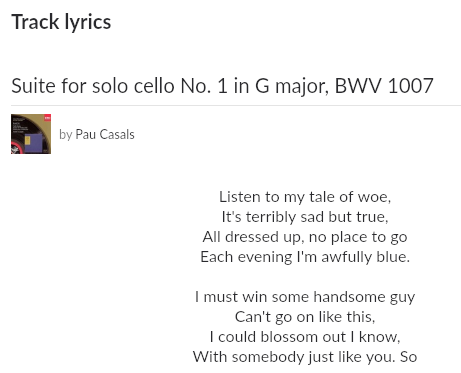 How do I get rid of this? I know it makes absolutely no difference to how roon plays these suites (we don't suddenly hear Casals singing) but it is wrong.