I am finding that Roon is very inconsistent with it's choice of primary artist and album artist. My intuition is that they would normally be the same. But it is often the case that Roon identifies primary and album artists as different and this leads to all sorts of very time consuming and manually intensive grooming strategies to tidy things up. Maybe there is a much simpler solution someone has but this is a typical use case (I have a lot of similar ones):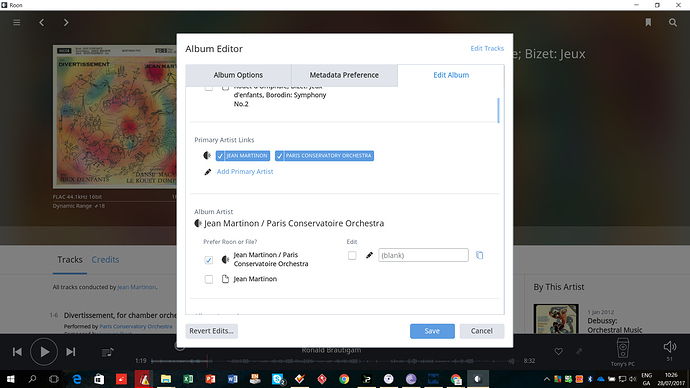 Roon has identified "Paris Conservatory Orchestra" as the primary artist but "Paris Conservatoire Orchestra" as the album artist.
What this means is that I end up with duplicates on the album screen which looks like this: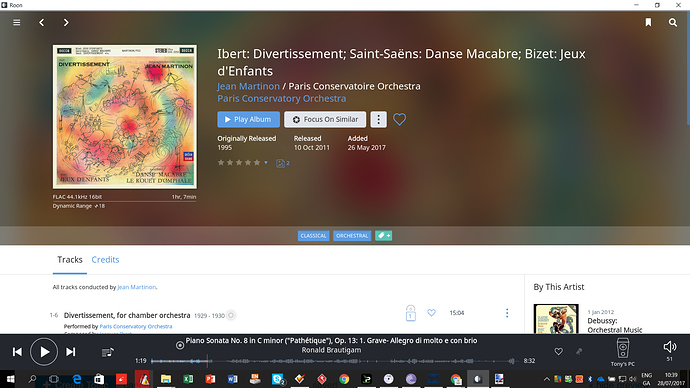 Apart from the duplicates, it looks a mess and I like to tidy things up so that I have one title line at the top (I don't need all that detail because it is all repeated much more accurately in the body of the screen). And one artist line with the (equivalent) duplicates removed. This is not the greatest example but where there is an album description I will also get the added benefit (beyond cosmetics) of 2 extra line of album text. So what I want is this: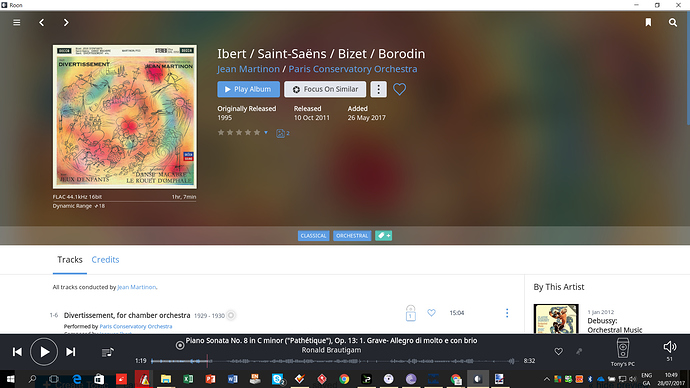 Much better.
The problem is that none of the options I have to accomplish this are very good.
Crude option. I can edit at the roon level. I do this on occasion when I just am not in the mood to edit my own tags (mp3tag for me). But of course it is just storing problems up for the future and depends on me believing that a lifetime licence means my lifetime rather than roon's lifetime.

I can artist merge "Paris Conservatory Orchestra" with "Paris Conservatoire Orchestra". The problem is, of course, that I cannot because Roon has not categorised "Paris Conservatoire Orchestra" as a primary artist, instead it has categorised it as a "performer". This is despite the fact that Paris Conservatoire Orchestra is clearly what Decca UK (not Decca FR) has put on the album cover and spine and that roon has retrieved for the album art display.

I can put a duplicate in my tags so that roon does not put duplicates in its tags. What I mean by this is that I can open up mp3tag and make both "Paris Conservatory Orchestra" and "Paris Conservatoire Orchestra", album artists in my tags. Then I can artist merge them in roon. Of course this is also just storing up problems for the future if I ever needed to use anything other than roon.

Alternatively, and this is what I normally end up doing, I can just change my tags to align with roon tags. The problem is that I have to do this for all instances of Paris Conservatoire or Paris Conservatory in my library and I will need to do this for ever, and not just once. I am finding that making this manual step is the rule, not the exception in my library. But it just seems so unnecessary and completely breaks the roon philosophy of automating as much as possible. The problem is that all the options seem bad unless someone has a workaround I am unaware of.
I would imagine that solving this problem properly at the metadata supplier level is probably intractable. I am not sure, but maybe having the ability to merge artists and performers as has been proposed elsewhere recently @joel, @Jeff_White would go a very long way to addressing this?