When I choose artist there are two "Berlin Philharmonic Orchestra"s. The first one has a pic and bio. The second one has a pic and no bio.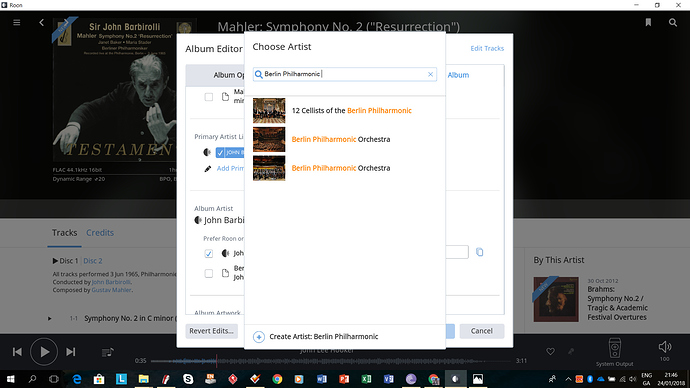 When I import the 1965 Barbirolli Mahler 2. I must first manually retag Berlin Philharmoniker (to Berlin Philharmonic Orchestra), Sir John Barbirolli (remove honorific) and Dame Janet Baker (remove honorific), otherwise I get a mess. Except that now I get two "Berlin Philharmonic Orchestra"'s and I must also change the release date from 2003 to 1965: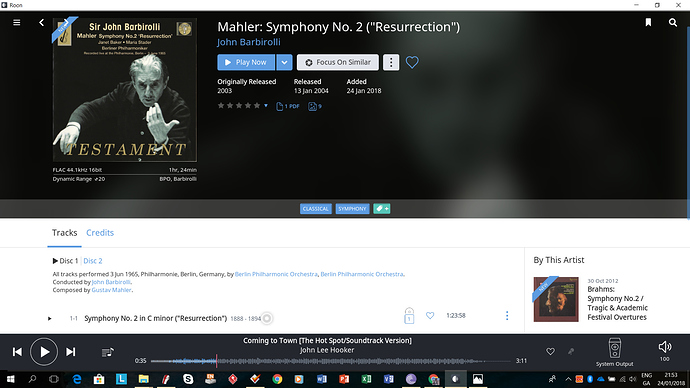 Both the Berlin Philharmonic Orchestra links work but one goes to the first instance above and the second to the second instance. In my library each link references totally different main albums and appearances. So that is my dilemma. Which one should I delete? When I go to the credits editor I see this: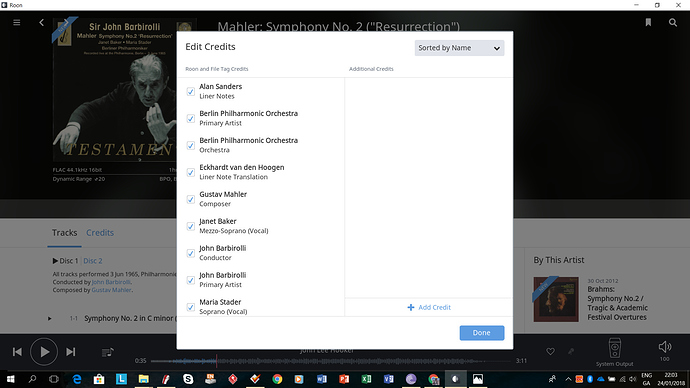 Berlin Philharmonic Orchestra has both a "primary artist" and an "orchestra" credit. I deleted the "primary artist" credit because I get this duplicates problem a lot and that is what I normally do. But I have absolutely no idea what the consequences of that is. For example, how it effects search or radio etc. or roon's hyper linking in general.
Is there a fix for this? As a general point also. This is a very simple example. It is much, much worse with a large Opera or Box Set. But I find that with Classical, this amount of pre/post grooming is the norm rather than the exception.