Content you're reporting an issue with
I've just imported a huge collection of Broadway cast albums and most of them have a "Classical" genre tag from Roon. When I to go My Library > Albums > Focus and choose "Classical", all the Broadway albums are mixed in with my actual Classical albums.
I have edited a bunch of albums and while I can't delete the "Classical" genre tag, I can click on it so that it turns red and has a minus sign instead of a plus sign. My first thought was that doing so would make them disappear from the classical genre but no. They still show up.
How can I get "Mamma Mia!" and "Little Shop of Horrors" (and several hundred others) cast albums to not show up as Classical?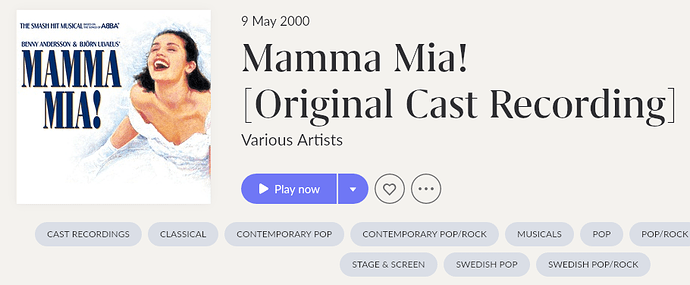 Have you made any edits to this content in Roon?
Is this content from local files, TIDAL, or Qobuz?
This content is from local files.
Screenshot of import settings
Description of the issue