Core Machine
ROCK runs on a 7i NUC.
Network Details (Including networking gear model/manufacturer and if on WiFi/Ethernet)
NAS, ROCK and internet box are connected over Ethernet on a switch.
Audio Devices (Specify what device you're using and its connection type - USB/HDMI/etc.)
Allo USBridge Sig Ethernet and connected to my DAC over USB (Matrix Audio XSP).
Description Of Issue
Hi
On my Samsung device (S10 5G), when I click on "recent", I have a strange screen for about 3 seconds. Here are the steps
1)in "discover"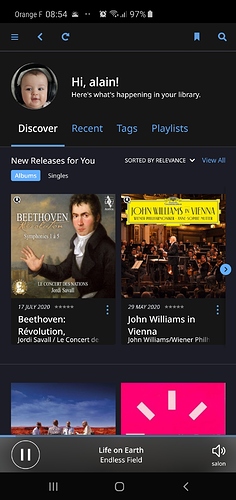 4)then 5 sec later it gets back to normal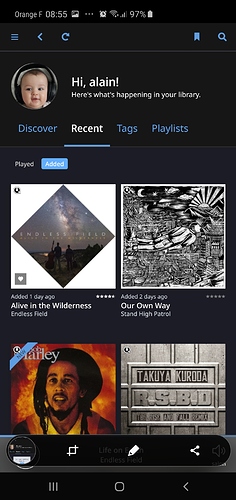 It is not blocking me but as I click ten times a day on "recent", it is getting annoying. The issue appeared when I got back home after 3 month on the country side (during covid). My Rock was turned off during that time. What can I do?
I of course tried to uninstall/reinstall the app. I have erased cache and data from the phone without success
Thanks for your time.