Wondering if Arc will support the new dynamic island feature on the new iPhone 14?
Indeed it does! When you leave Room Arc (ie. swipe up from off-screen), you can see the current album cover on one side and the volume level dynamic bars on the right; Tapping on the dynamic island opens the Roon Arc app.
Yes, Roon ARC will work the same as other media playing applications in regards to the Dynamic Island now playing feature.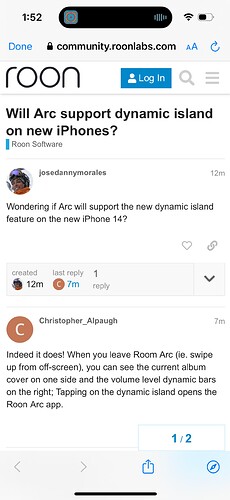 This topic was automatically closed 36 hours after the last reply. New replies are no longer allowed.