How do I then find the discs with the music?
I think you need to read how you make a folder shared over the network in Windows 10.
OK, I'll try one last time. I have an H: drive on my computer (which is called Matisse). I have created a folder called Musik on this drive. So in Windows File Explorer, the path is H:\Musik.
I have shared this folder over the Network - and as you can see from the Properties window, the Network Share Path is \\Matisse\Musik and NOT \\Matisse\H:\Musik.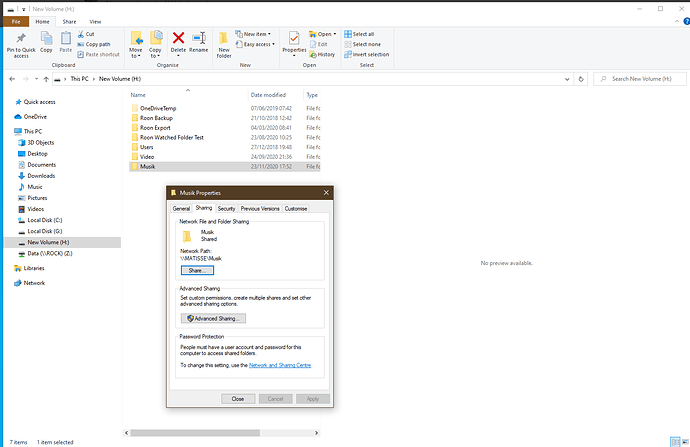 I am sorry if you find me annoying but I just want to understand and find my music again!
My computor is BATMAN and the folder in H is called musik. I have shared it so it is now called \BATMAN\musik. But when I try to find it in Roon I have no success! Can I search it in Roon in another way ie searches for all folders?
I have 5:
\BATMAN\musik
\BATMAN\musik2
\BATMAN\musik3
\BATMAN\musik4
\BATMAN\börje
Should be 2slots in the beginning ie;
\BATMAN…
No you have to add each folder separately, since they are all at the same level. Show a screenshot of the Add Network Share screen with the error message that you are getting.
What! It took one slot away again?!?!
With the forum software being used here (Discourse), you need to type three \ characters to show two…
So BATMAN is your Windows 10 username, and you don't use a password? I rather think that there's the issue.
You mean I should create one?
When you shared the Musik folders on Windows 10, you would have had to add user credentials to the folder share, to tell Windows 10 who would be allowed to access the folder over the network. So what did you do then?
One more try here, as well.
I do not see the limitation of only being able to share a folder, so have selected the music-disk on my Media-PC and shared it by right clicking and selecting to grant access, where I could give it a name - Quietschbox in this case.
Now, from my remote laptop, I then see the shared disc under NETWORK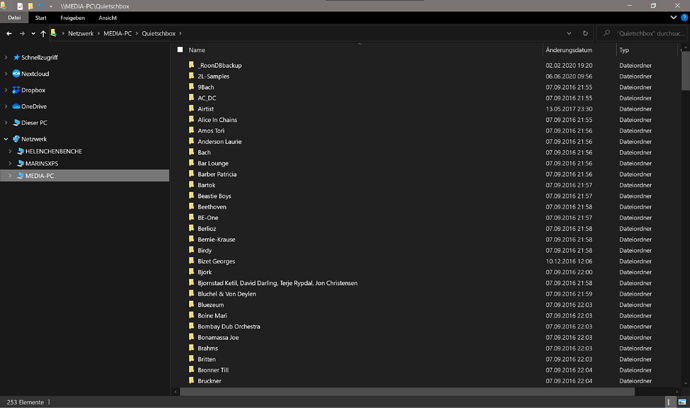 et voilà
"everyone" means all users on your Windows 10 computer. You can't use that as a credential in ROCK.
It's like saying I have cats called Fred, Timmy, Irene. In my household I know that when I say "cats" that's all my cats in my household - and I know their names. Someone in the next road can't use "cats" and know that it refers to MY cats in MY house.
Wow! With password it worked!?!?
Thanks everyone! Now the big question is: will it recognize the folder of the win7 computor so I will keep all the information, playlists etc?
What do you mean by that? The settings and playlists come from restoring a backup.
At this point, I'd like to remind you of the knowledge base, wherein it says:
Step 1: Backup Your Database
…
Step 2: Restore Your Database
…
Step 3: Configuration
…
If you followed the given advice, you should be all set now.
Crossing fingers here…and wishing you good luck
Of the old 5 discs in the Win7 computor 2 have been replaced by new better and bigger ones and 3 have been moved to the win10 computor! All data seems to have been saved and my old playlists work! Great! Thanks again!