i9900, 16gb win 10 machine running core. (office)
i3 8100 32 gb Isn't picked up with roon or roon bridge installed. (lounge)
Both machines connected via ethernet.
Description of Issue
When installing roon on an additional windows pc it isn't picked up in the settings audio devices. Installing bridge doesn't change the listing of outputs. Install the roon app shows as if I'm running on the core machine.
The outputs office, Samson go mic etc are on the core machine and not the lounge machine I want to setup as an output.
Screenshot from lounge machine showing office outputs as this pc: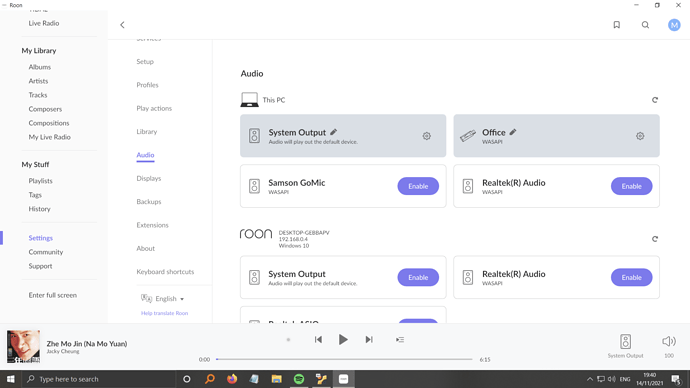 I have also had the setup reverse with the core running on the lounge machine. The results in the office outputs not being picked up. Adding roon on an additional windows laptop does result in more outputs.
Reinstalling after wiping the roon settings on the lounge machine has also been tried.