Even I have MQA DAC. Never again MQA
I have also been considering this, but I have a lot of Tidal albums and the thought of transferring all of that over scares me to death.
I know that there are apps and Software that may help but it is still a scary prospect.
Also in my free trial of Qobuz a while back the New Releases section was a bit lacking. I had to search for albums rather than them be in the New Releases.
I may take a month to look again at Qobuz.
Soundiiz.com is very easy to use and you wont lose anything favourited on your TIDAL subscription so there really is no problem with at least giving it a try.
I agree that Qobuz New Releases leaves a bit to be desired, it trims out rather a lot from the full list of releases each month. But dont worry they are usually all there, just not always surfaced in the app. So you can search for them in either Qbouz or Roon and add to your library easily enough.
Tune My Music works for me.
I sub to both and notice that both Tital and Qobuz put different albums in their new release sections, I think they pick some of them. Also, this is a site I use to look at new releases because both apps don't list them all.
https://www.albumoftheyear.org/releases/
I should've probably have posted the link, better late than never

Yes this is the site I use too.
Your link does not work I am afraid.
I assume its a service I would have to pay for?
I may give Qobuz another go, and then worry about transporting playlists if I am still keen to switch
This is their pricing model.
I believe I moved all of my music out of Spotify to Tidal for free but I can't remember what service I used since it's been so long.
Thanks for the info.
To be honest I wont pay anything for this service as it will be a one off event if I do move over to Qobuz
Is Qobuz only £15 per month? This is for unlimited high res streaming too.
I think its time to give it a try for a month or so.
You can pay for one month and then drop it. It's well worth it if you have thousands of linked files you want to move.
I have about 500 Tidal albums I guess.
I dont use Tags etc…
I think II will give Qobuz another go as its only £12.99 according to their site.
I dont need the sublime as I do not buy music anymore.
Thanks Jim
Qobuz has been dropping their pricing I believe to stay competitive, I will take it!
I wish I could convince myself that I don't need to buy music anymore but we won't go there

Good luck with your Qobuz experience, enjoy!
Given all the cool kids seem to be using Qobuz thought i'd give this a shot again.
Transferred my library using Soundiiz, initial result, a trainwreck sadly.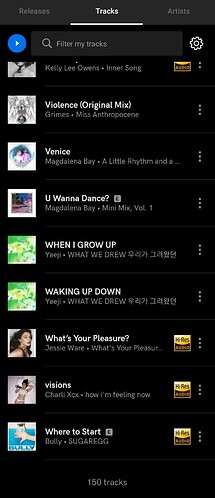 Qobuz app only shows 150 tracks.
Here is where it gets weird, in Roon they show up: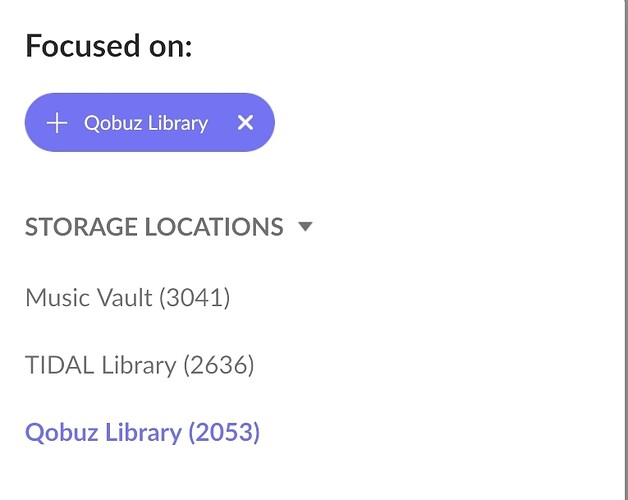 I tried uninstalling the app, signing out and back in etc and its still broken in the app.
Sadly it gets worse, in Roon i can see that Qobuz has taken tracks and not the track linked to an album: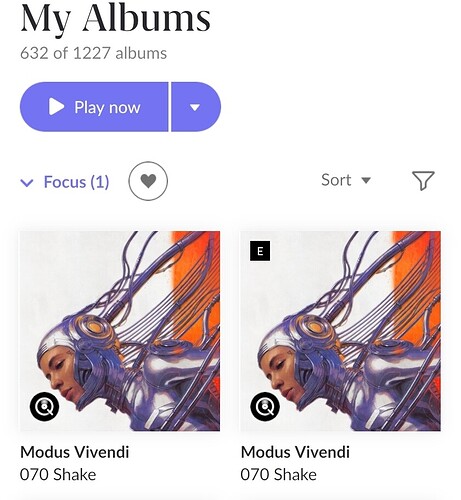 Here my favourited tracks are split across the explicit and non explicit versions. Checked in Tidal and all the tracks i favourited are from the standard explicit version
This has happened to A LOT of them, too many to contemplate fixing.
Sorry to hear this, but this is the sort of feedback I wanted. Not as simple as it should be then.
Definitely not sadly, I do wish Roon did the switch, they have everything identified after all.
The process to transfer is simple, the result is not.
Albums are not the same, tracks are different and sometimes it doesn't even find the correct track / album but finds what it thinks is the same. Vallis Alps was translated to some garbage compilation album.
I only use it to sync albums. I don't fool with tracks or playlist.