I know, the moth is just an excuse to show off your pool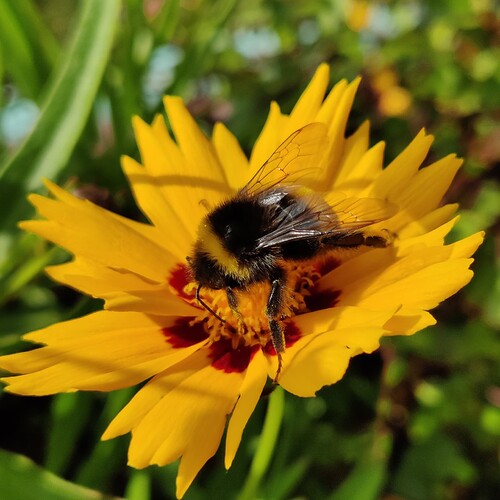 One+Nord
Bumble bees are getting rare, as most other insects these days, so it's nice to see them stop over at our balcony… this is from last summer.
co-incidence or what? the first picture i see having just been checking out my bee hives

Lovely. A new winter screensaver for me

Enjoy it

Thanks Ged, that was a couple of days ago, he's managed to shed a couple of cannulas and got himself back on oral medication so everything is looking good at the moment & he's smiling

So, so tiny. As a grandad myself I can only imagine the stress and relief.
Indeed, it's slightly worrying but we've been fortunate enough to have a relative on hand who's a ante-natal intensive care matron & Seb's mum is a nurse so everything is explained & we get informed progress updates. Unfortunately we're 250 miles away so visiting is not possible at present.
We were regular visitors to the Lakes throughout my childhood, staying in various "walking" locations. In the mid to late 1980s we stayed, on a couple of occasions, at Stanley Ghyll House when it was part of the "Countrywide Holiday Association". These holidays included a weekly pass for the Ratty. Wonderful memories brought back by your photo.
Yes I was too in the late 80s. It was a life long ambition to move up here and I have finally managed it.
We eat out sometimes at the boot inn that is very close to the Stanley ghyll, it's a four mile walk up the river from the village where we live.
I am glad a simple photo has brought back such great memories for you, it has made my day.
Not sure if 'nice photos' is a good description for this contribution. The attached image is from 1969 - 1970 in Talacre Wales. My younger brother and sister are on the left of the photo, then a young version of me + my best friend Mark. Mark went to the world cup (Mexico) in 1986 and never came back.
His family had very brief contact from him in the years after, but no reunion or happy ending ever occurred. I often think about him and what happened to him. Me and he were big fans of the new music that was happening at the time (Bunnymen/Teardrops/ Wah). It's really sad to think about the lack of information since those days.
I love the shadow of my Grandad when he took this photo. He always wore a trilby.

There are some very moving photographs coming up on this thread. Well done to @PixelPopper for starting it and thank you to @Enough for this latest "story pic".