Hi @Sigmund_Aalbu,
To make sure I'm understanding you here, you're saying that if you remove the same device and add it back then the group starts to work?
Is there any pattern to the groups that work vs the ones that do not? If you try to play to each zone individually, do any of them have issues doing so ?
Hi.
Yes - if I add or remove a device the zone is working as it should.
No other pattern so far.
Hi @Sigmund_Aalbu,
Apologies, I don't quite understand the symptoms here, can you please clarify and provide some examples of the issue with timestamps + tracks? For example:
At 2:06PM on 11/25/20 you had Muso 2 and Mini grouped playing "Dark Side of the Moon" and Roon stopped playing

At 2:09 Removed Mini from group and re-added it

Then tried to play…
Would you be able to provide details of the issue similar to the above?
The problem does not occur during playback, but when I stop playback, and start playback again.
Occurs only when trying to play a zone, never when playing on individual devices.
Removing or adding a device to the zone (=save change) fixes the problem (=all devices in zone play normal)
Hi @Sigmund_Aalbu,
Thanks for clarifying that aspect, can you please let me know the next time + date + track you experience this behavior next?
I am experiencing the same symptoms as Sigmund. Details are here:
Just happened;
Playing media from local server
Playing started and stopped from PC (Alesis M1)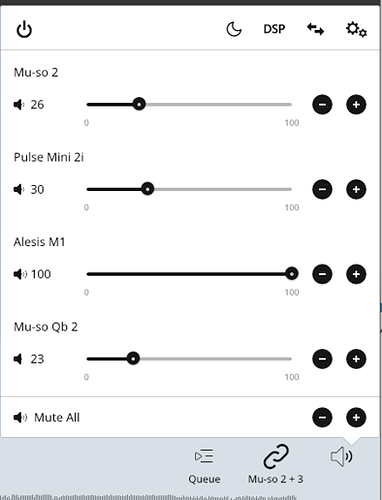 Starting playing a new album (from local server) from iPad (as remote)
Sound only on PC (Alesis M1)
From the PC - Removed Mu-so Qb 2 from zone and press "save" - the remaining 3 devices plays as normal
Adding the Qb to zone, press "save" - all devices plays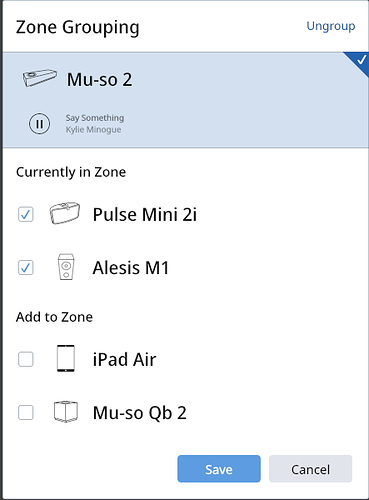 Everything works when I press "save" on the zone - every time
Hi @Sigmund_Aalbu,
Thanks for the additional information, but unfortunately it would not be sufficient to cross-reference the logs. Can you please provide the information I previously requested?
Example: Played Dark Side of the Moon at 8:50PM on 11/30/20 and reproduce the issue.
Then, after reproducing/receiving this timestamp, can I kindly ask that you use these instructions to send me a set of your Roon (server) logs for review?
Hi, logs on PM
14:37 Played Pat Metheny Group - Imaginary day
From local media, using Roon from PC
Sound only on MuSo 2 and PC
Removed Pulse Mini 2i from Zone
MuSo Qb starts playing (together with MuSo and PC)
Added Pulse to Zone - all 4 devices are playing
Thanks for the timestamps + logs @Sigmund_Aalbu, let me get these over to the team for closer inspection and I'll reach out again once I have their report!
Hi @Sigmund_Aalbu,
Thanks for your patience while the team has had a chance to review logs!
Looking over the logs, it is possible that the issue is stemming from just one of your grouped zones, the Pulse Mini 2i.
Can you please try to perform the same tests except do not have the Pulse Mini 2i grouped with the rest of the zones?
Without the Pulse Mini in the group, are you able to reproduce the issue?
Yes sir, can do:
Removed Mini from Zone
Playing Dream Theather/Distant Memories @00:20
Alesis is the only device with sound
Both of Naim "is awake" (light in volume control and the app (on my android phone) reports playing)
But no sound…
Removes Alesis from Zone (and push save) - both Naims starts playing
Adds Alesis to Zone and all devices plays normal
Logs sent by PM
Hi @Sigmund_Aalbu,
Thank you for those new timestamps + logs, let me get this new set over to the team for review!
Hi @Sigmund_Aalbu,
Thanks for your patience here while the team has had a chance to review logs.
It appears that the issue may be due to the Muso-QB zone on further analysis, and we have a few follow-up questions:
Are you on the latest Muso firmware?

What does your network look like? Please list the model/manufacturer of all your networking gear.

How is your Core and Muso connected to the network? Are they both connected via Ethernet to the primary router or in another way?
My setup
Server: Windows 10 Pro - LAN
Clients
Windows 10 Home - LAN
Naim Mu-so 2 - LAN
Naim Mu-so 2 Qb - WiFi
Bluesound Pulse Mini 2 - WiFi
Network
Wireless: ZyXEL P8702N
Wired: aqvox - http://www.aqvox.de/index_en.html
Everything on updated FW/SW.
Hi @Sigmund_Aalbu,
Can you please try to temporarily connect the QB via Ethernet and verify if the issue still occurs?
Hi again.
Think I have found the problem.
It was a problem with ethernet-cable to Mu-So 2, got only 100MB - not 1GB
Upgraded the cable yesterday, and everything is 100% so far.
BR Sigmund
Hi @Sigmund_Aalbu,
Thanks for letting us know that replacing the Ethernet cable resolved this issue!
If you have any further difficulties with Roon, please just let us know.
Happy New Year!
This topic was automatically closed 36 hours after the last reply. New replies are no longer allowed.