Core Machine (Operating system/System info/Roon build number)
Roon running on my Synology NAS (Roon itself on an SSD, library itself on spinning disks)
Network Details (Including networking gear model/manufacturer and if on WiFi/Ethernet)
Fiber/Gigabit internet. Wifi6 mesh routers throughout the home
Audio Devices (Specify what device you're using and its connection type - USB/HDMI/etc.)
Roon -> (wifi) Cambridge CXNv2 -> (analog out) Analog Tube Amp (Cronus Magnum II) -> vintage Klipsch Cornwall speakers
Description Of Issue
Hi. Brand new to Roon and have been very happy with the product so far. No issues at all during setup etc. The only bummer / nagging issue is that my 24/96 files seem to sound noticeably "worse" than their 16/44 counterparts. On both downloaded files and my own vinyl rips.
I think best way to describe it is : muddy and borderline distorted. Am i missing something (or perhaps have an incorrect setting?). I attached a screenshot of the signal path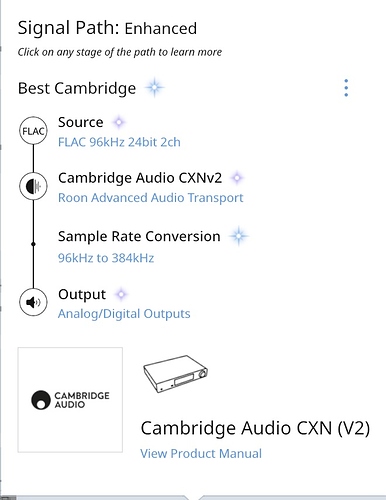 as well as the roon player waveform of the same song. One at 24/96 and one at 16/44. Am I crazy or does the 16 seem more "dynamic" than the 24?
16


vs.
24


Any help or insight would be greatly appreciated! Thx!