Envy.
More and more, it turns out ECM is where the artists I want to hear make their recordings…
Now you're just being cruel.

I love that ECM's recordings aren't available to stream everywhere. It makes my purchase last year of Hommage A' Eberhard Weber that much more appreciated. And it reminds me that Tidal, while very good, is an enabler: I become a music glutton, consuming a lot, savoring much, but in the end only seeking more of the same.
My big pending decisions are whether to rip my Pat Metheny LPs, download the files, or just buy the CDs. In my limited experience, ECMs Redbook recordings are very good and I can't tell the difference between them and hi-res versions.
Haha, sorry @dbtom2, not my intention!

Couldn't agree more with you on the streaming (or rather non-streaming) policy of ECM. I also agree with you on the quality of (most) ECM redbook recordings.
I don't have any ECM vinyl and just a few hi-res versions, so cannot really compare. I do, however, still like to broaden my musical horizon, and I think Roon is a fantastic tool for this.
Are you sure you're only seeking more of the same, or are you seeking more "similar" albums? Because personally, that's the way I evolve my musical tastes: not by radically adding new genres (I don't like house and death metal and never will), but by gradually opening up to and adding more subgenres (especially in jazz and classical music). I just think you might be a bit too hard on yourself here

My interest in ECM right now is to improve my library contents by adding recordings by Jan Garbarek and Maria Schneider. Garbarek because I've yet to find a recording of his I didn't like and Schneider because what I've heard is so accessible - easy to listen to but complex enough to be foreground music.
Agreed. Of the 146 ECM albums in my Roon collection, 96 are Redbook rips, the rest FLAC downloads from Hdtracks at various resolutions up to 192/24. I can't reliably separate Redbook from the higher resolution albums. Maybe that's in part because I use Schiit multibit DACs (Yggdrasil for speaker system, Bifrost for headphone system) that have been designed to do really well with Redbook.
ECM is not the cutting edge of the Avantgarde. It is generally a vehicle for somewhat more mainstream performances by these avantgarde artists.
Many of these artists started on labels like Pi Recordings, Cuneiform, and Thirsty Ear.
Don't get me wrong – I am a big fan of ECM and enjoy many of these recordings. However, these other labels are more primary vehicles for the truly avantgarde recordings.
Don't know why I wrote Maria Schneider. While she is also on my non-Tidal wish list my main ECM library filler is Keith Jarrett. So many great artists…
Indeed, 30 Pi albums in my collection: Steve Lehman, Tyshawn Sorey, David Virelles, Amir Elsaffar, Henry Threadgill, Marc Ribot, Rudresh Mahanthappa, earlier Vijay Iyer, …
Qobuz only has 320 bit availability on ECM within the UK, but at least you get to sample the music.
Some interesting articles on Manfred Eicher, ECM and ECM coverart:
Speaking of Cuneiform, Wadada Leo Smith's America's National Parks keeps growing on me each time I listen. Getting way high on my 2016 acquisitions.
Really enjoying the latest Louis Sclavis ECM release Asian Fields Variations, just bought from HighResAudio.com. More atmospheric, slower, less violent than some earlier favorites like Napoli's Walls or L'Imparfait des Langues. Beautifully recorded with just the right pinch of "ECM reverb," excellent soundstage through my microRendu>Bifrost Multibit>Jotunheim>MrSpeakers Ether C Flow headphone system. Sclavis's clarinet from center stage is hypnotic.

Thanks.
Bought it. Playing it. Loving it.
Picked this on the HDtracks ECM sale, surprised I had missed Katché's this mellow, calming but tight composition and playing until now. My guess is that this is best as an album, on (good) headphones, than live, where I prefer riskier, edgier music.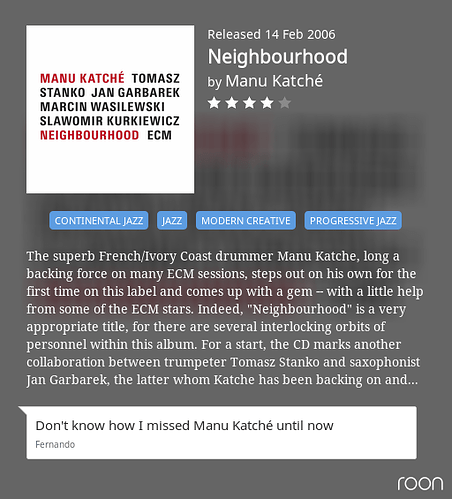 Had forgotten that I had got this soon after it came out. Think of Philip Glass meets jazz trio.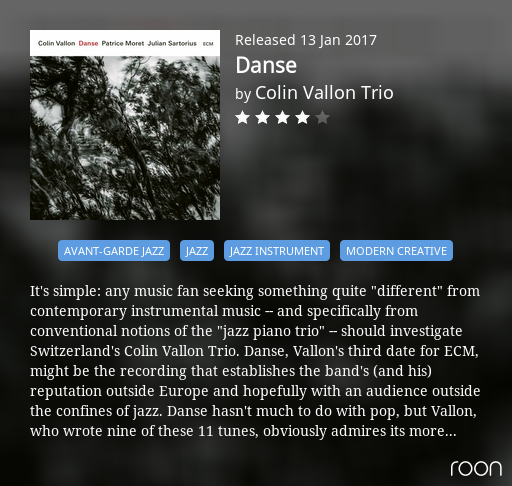 John Abercrombie has been a favorite jazz guitarist for decades. I've been lucky to hear him live several times, but unfortunately the gig he was supposed to play at SFJAZZ recently was canceled for health reasons.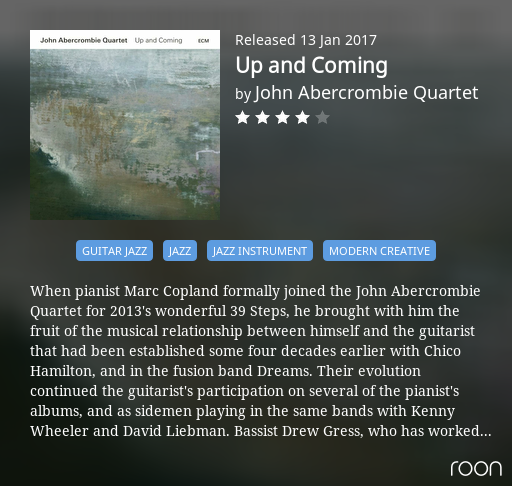 I try to keep my non-ecm digital library as small as possible so the ECM titles have more "air" in the library - relying heavily on Tidal for other albums. I have been listening to ECM for decades. Most of the library is redbook FLAC, while many of recent years purchases are in highres from HDTracks or Highresaudio. Guess I am some kind of nerd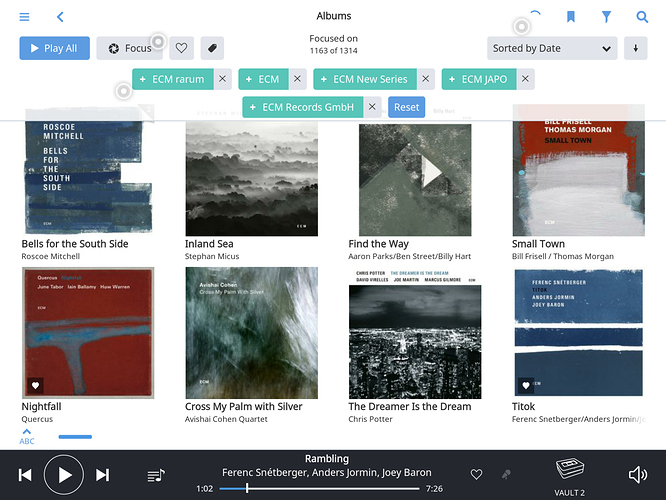 Nice! I have all of those except "Inland Sea" and "Nightfall." Should I get them?