Hehehe, we blokes sometimes don't cotton on to the signals that are staring us in the face!

Mrs. Dozer likes to express herself in the kitchen at the weekend. It's not quiet, a decent speaker cranked up accompanies her and I do washing up duties. I'm happy to dispose of the fruits of her labour and do my share of the cooking in the working week.
Some of the soundest advice I've read on this site. Left to my own devices I'm not bad, just wildly erratic…
I've often said that when Mrs Tel is away for work and I have to fend for myself, that I could easily end up being the subject of an article in the newspaper that simply closes by saying: "The coroner recorded a verdict of death by misadventure."

I cooked a pasta bake the other night. One purple peach habanero chilli went into it - I reckoned it was too mild. Mrs F could barely eat it! Not a good idea to give me free reign in the kitchen. To my mind there's no such thing as too much garlic/chilli/ginger…

Similar politics are played out here. My favourite question regarding spicy food, "Will I like it?" which might resonate with some of the debates on here. I've had to learn the art of (relatively) subtle spice use.
Lovely's best buddy is a two-year-old Border Collie called Rocky…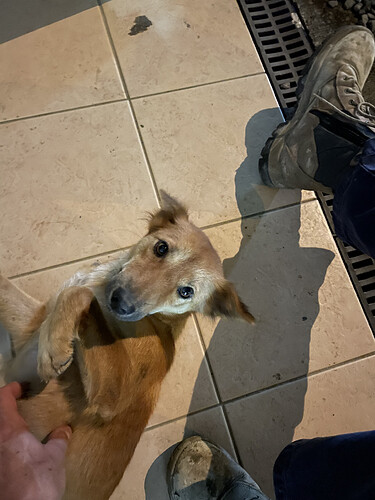 This is 'Girl'. She comes up for a pet and a tummy rub every day since we made friends here at Lihir Gold Mine camp in Papua New Guinea.
She also enjoys the piece of meat I steal from the kitchen for her every day

What a cutie!!! He/she sure looks like he/she wants to come in though…
He gets an attitude when having to wait for a photo. He was completely covered his first trip out. I missed that pic.
He might like to see another Canine manipulation to get his desires filled…The link to that Tik Toc video is in the article as it would not let me post the original from TikToc
Poppy is starting to really show her advanced years unfortunately

.
Not too long ago she would never come sit on anyone's lap but now she slowly ambles over towards one of us and cries until picked up and placed on lap.
There she will try to sleep but it's very fitful and erratic.
Making her comfortable though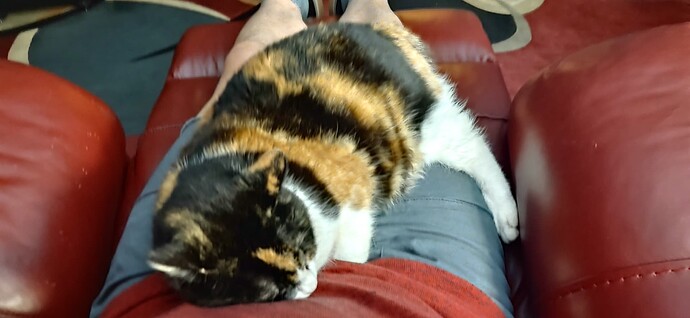 Well I hope laying on you and feeling your heartbeat gives her some comfort.
I miss our cat who looked just like your Poppy…now that I think about it, I think I mentioned that she had a nasty Drool problem and I think you said Poppy drools as well…Appreciate her while you can!!!
Cheers!
My two critters enjoying some rays of winter sun, the girl in the front, the boy in his usual pose in the back.
We adopted them from the animal shelter end of 2019. Both were deemed the most unadoptable cats they had (we always take those), anyhow, two years of Corona, lockdown, Homeoffice later we now have two big love bugs and music fans
The male in the back sleeps like my dog.

Gotta air it out.
Yes, he is airing it out multiple times a day.
I am happy most Corona measures have been lifted, however I miss the two funny critters the days I am back in the office I have to confess