Hello!
When playing a piece by Édouard Lalo, a French composer, on Live Radio, Roon displays his name as:
Ã%odouard Lalo
If you go to the original stream at Bru Zane Classical Radio: the French Romantic music webradio, the name is displayed correctly, as you can see in this image:

However, Roon for iOS displays as follows: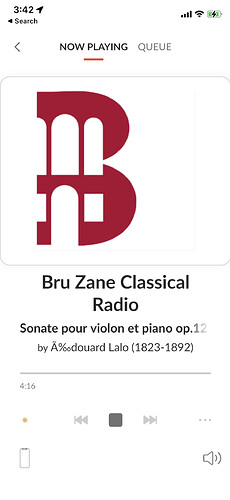 And Roon for MacOS displays as follows:

Of course it may be that the composer's name was incorrectly encoded by the Franco-Italian staff who run Bru Zane in Venice, and that therefore the error is not with Roon.
The radio station is included in the default Roon database, and the stream address is:
http://188.165.11.220/;
My apologies if this has been addressed before.
Thank you in advance for any insights,