Roon has the ability to display "Top Tracks" from an artist, pulled from tidal.
This feature request is to have an option to ALWAYS show that (so long as you are logged in to tidal).
Because currently, as soon as you put a FLAC/local file from an artist into your library, the "Top Tracks" section of the artist page disappears.
Example:
If I have no music in my local library from the artist "Tame Impala", then going to the artist page shows this: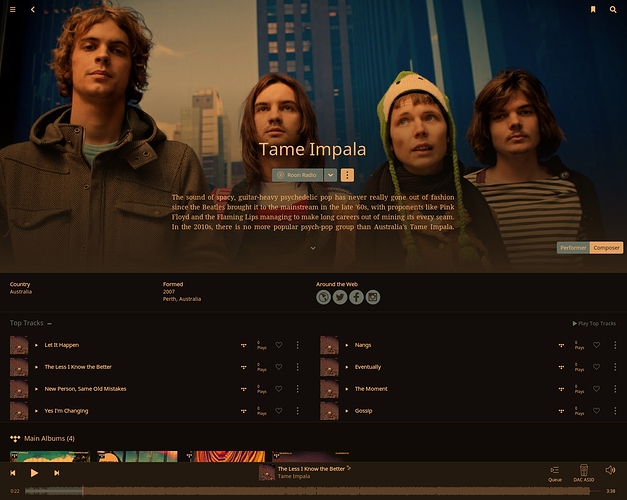 It will also look like this if I have music from them in my library from tidal.
BUT, as soon as I purchase/download a FLAC file from that artist, their page will now look like this: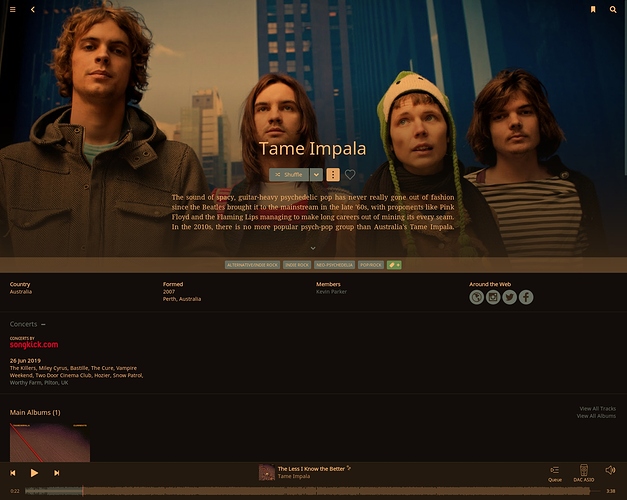 Top tracks no longer shows, and there is no option to display it again. The only way to get it to show again is to delete all FLAC files from that artist from my library.
This is frustrating because there will be ocassions where I find a song which I like, and i'll only have ONE song from that artist. So i'll want to go to their page to see what their top tracks are and listen to some more. But I can't, because roon will not show it.
This means I now need to quit roon and open up the native tidal app.
It would be absolutely fantastic if there was an option we could enable to force "Top Tracks" to show all the time, regardless of if we already have music from that artist or not. It seems kind of silly to hide it just cause we have one song from them.