Hi copying a thread from another topic which I feel deserves it's own topic.
@Craig_Palmer @danny so how does Valence work ref recommendations?
Here is a pic of Phil Ochs American Troubador album, take a look at the recommendations. Now a cursory glance shows they are both singer-songwriters, and in a way this recommendation surprised me, I had not heard of either, but I would have expected to see eg Joan Baez, Bob Dylan, Pete Seeger, other protest singers, not just USA but perhaps from around the world etc, so very interesting choice of recommendations…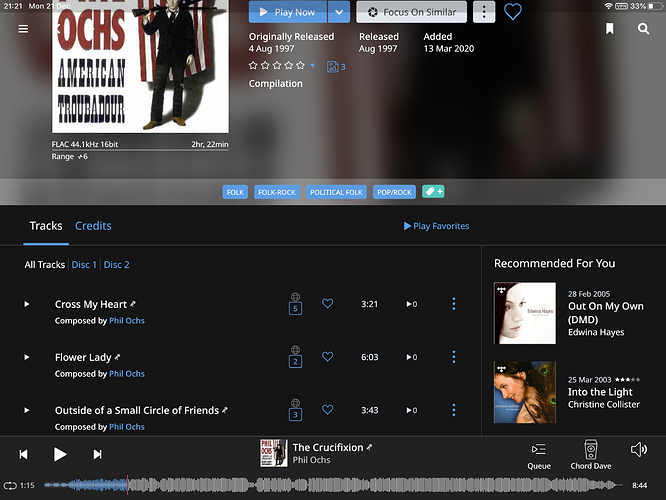 For Miles David Kind of Blue, no surprises, indeed week after week it's typically the same, in this case why are the recommendations always similar and 50s/60s based, why no suggestions for jazz trumpeters eg from the last decade, from other countries etc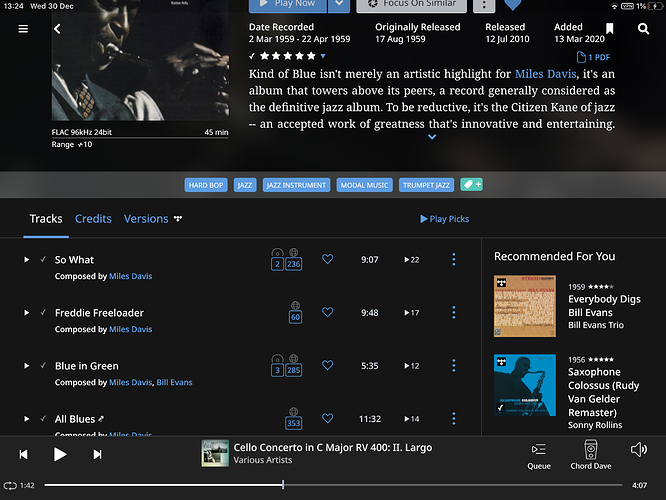 In conclusion I feel this is the area where Roon should invest!

Valence uses a lot more than just genre because Roon genres (which come from AMG … bought by Rovi…now Tivo) are only at the album level vs track. If that is all Roon used it truly would be terrible. It also is taking into considerations the thumbs up / thumbs down selections users are inputting during roon radio selections. Last.fm is also listed in the credits so it's also likely using it's scrobbling capability to help in music similarity algorithms. So at minimum it is using all three aspects in some intelligent fashion. Beyond this who knows…