Thanks, this is what I was looking for… i will report back later on!
i was thining of remapping Volume Up Keyboard command to Roon Cmd-Up… but then does that mean I can't use the volume up for other things like browser or zoom call? or is that why you only do it to the app in the foreground?
Yup.
My ortho's are connected to a little headless Mac mini server in the cupboard – I leave Roon open in the foreground, so it's always available.
There's a nifty app called Volume Control I also use – it basically maps volume control for Apple Music and/or Spotify to the volume keys and keeps system volume available with the CMD modifier (use CMD-volume buttons for regular volume control). I guess you could use the volume key mappings system wide in that scenario.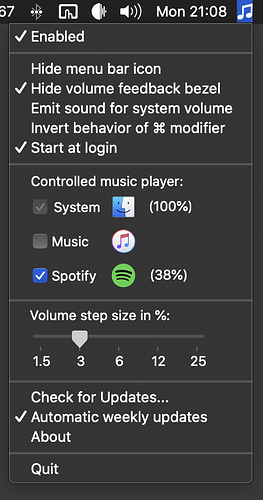 (I use the VC app for controlling Spotify volume with the orthos, but it still allows BTT to steal the controls when Roon is in the foreground.)
I am trying to do this without BTT and just use Karbiner but Karbiner seems to strictly be physical keyboard and does not get virtual key presses from Ortho knob. I guess i may break down and get another BTT license unless you know another way. I feel like i am so close but not quite there!
I have not dabbled with Karabiner much, so I can't offer help there, I'm afraid.
I guess something like this should be possible with Keyboard Maestro as well – but hey, when it works, it works.

Ok, i have it working on my laptop where i had a BTT license. It seems to work, but not as responsive as I thought it might be.
Is that why you have three Cmd-down arrows, to make it respond more?
So it controls Roon when Roon is active, and if there is something else active it controls the system volume.
Yes – it's doing three volume steps at once, so it ramps up and down a but faster.
In theory you could also use the 'Send to xxx app only' option in BTT so commands are set to Roon regardless whether it is in the background or foreground, but I found it a bit unstable in conjunction with Roon. Worth a try though.
Sorry if this is a bit OT for this thread, but in short: Why bother with the Ortho Remote?
I have tried to make it work for quite a while and could not achieve the results I was aiming for.
Have you heard of/tried RooExtend?
It just works without any fuss using either a MS Surface Dial or other hardware dials. Especially the Nuimo is great!
I sold my Ortho and never looked back.
I'm embarrassed to say I read the threads too quick and thought that Ortho did work with rooDial. I didn't think the Nuimo was available and wasn't sure if the MS Surface Dial worked with Macs. In short, lack of research.
Because it's great at controlling Spotify Connect: I've got a handful around the house connected to an old Mac mini in a cupboard – they control everything that's playing in all Spotify Connect zones around the house.
Controlling Roon is a bonus. I've got a Surface Dial with RooDial as well – works fine. Still pondering a Nuimo – had one once when I had a Sonos system, but wasn't convinced. Maybe this time.

Indeed the Nuimo has not been available for quite a while. It seems they didn't produce as many interface-hubs as they made dials (that's how I understood it).
But RooExtend now works without this hub and it really is a super elegant solution! The controls feel like on a ultra-high-amp.
I can't imagine Roon without this any more.
Sure, that is a different question that I know nothing about. I do not (yet?) use Spotify.
But the sheer build quality of Nuimo is really amazing! I had the Ortho for quite a while and it feels really flimsy in comparison.
Badly looking for a hardware volume control for Roon I still would have gladly used it, but MS Dial and especially Nuimo just feel so much better to me.
Is there anywhere to source a nuimo?
Have a look at RooExtend.com
They are still selling them and as the owner of 2 I am another supporter
Someone posted in one of the threads that he was selling two Fully fitted out Nuimo with the Bluetooth controller a couple of days ago, so might be worth having a look
As info I purchased the two from the seller.
Flimsy is not how I would describe the Ortho (the turning momentum is quite nice), but yes – it's plastic fantastic instead of aluminium. I prefer the dimensions over the Surface Dial though. I mostly like the flexibility – since they basically act like standard HID devices, you can connect them to almost anything. My black ones are for Spotify, but I've got two white ones as well. One is connected to an old iPhone-on-a-dock, controlling the KEF Connect app on the iPhone, offering volume control of my LS50 Wireless II speakers, regardless of the source that is playing. The iPhone/Ortho combo also does proxy playing for Apple Music (iPhone > HomePods > LF50WII), so other iDevices can act like remotes instead of streaming directly. And there's one on my office desk, controlling system volume (quite nice for Teams/Zoom) and Spotify/Apple Music on the AirPods Max.
All that said, RooDial as been running without as much as a hiccup for quite a while now (added bonus: when it is set to control the LS50 zone, is controls the volume regardless whether Roon is playing or not – so it also works for other sources).
The Nuimo is a great piece of hardware. It had one flaw when I used it in its native config (controlling Sonos): it needed to be tapped awake before the volume control ring sprung into action, making it a bit awkward to operate (the ring does not respond when it has fallen asleep). As far as I can see, that's not an issue in the RooExtend configuration, so maybe I'll treat myself once more.

Well done.
Are you looking to use them with RooNuimo?
You are right: The Nuimo when run through RooExtend shows a "heartbeat" during playback and that prevents it from falling asleep. It always responds right away and in general it is an absolute joy to use.
They will be added to control additional zones. I currently have one that was ordered from the RooExtend site and love the implementation. I am also on the waiting list for an black NUIMO. They are fantastic controller for my use.
Ooh a black one would be very nice.
I thought they had all sold out.
The white and silver is fine to look at, but work's so well.