To @AMP Andrew P
Owner of Esoteric Audio
Write'n down the 24 February.
Thanks for the great write up, sir. Based on great knowledge do I believe!
It's helping me what I need to buy and not necessary need.
Is storage connected directly to the ROCK/NUC accessible to the network? Can I add/modify files without removing/moving?
yup, \\rock\data\Storage<drive> for external drives, and \\rock\data\Storage\InternalStorage for the built-in drive
Great–so I can buy an enclosure and repurpose my 500GB internal drive as a USB drive connected to ROCK. Perfect.
Thanks.
Looking for this conversation!
For external HDD /SSHD, it can be filled in with music db using other means (windows/Mac OS machines) and plug in to NUC USB correct? (Assume FATEx formatting )
Yes, I have plugged in USB drives formatted with EXFAT that already had music files on them, and they were recognized fine by Roon.
A review of the KB article yields additional information:
https://kb.roonlabs.com/ROCK:_Storage_Basics
Among other tidbits:
ROCK will also work with NTFS ,FAT32, and ext2/3/4 drives, but if you are starting fresh with USB storage, our recommendation would be to us exFAT.
$459 https://www.newegg.com/Product/ComboBundleDetails.aspx?sdtid=10202624&SID=dda680f245ac11e7ad8dba14d69f32410INT&AID=10440897&PID=1225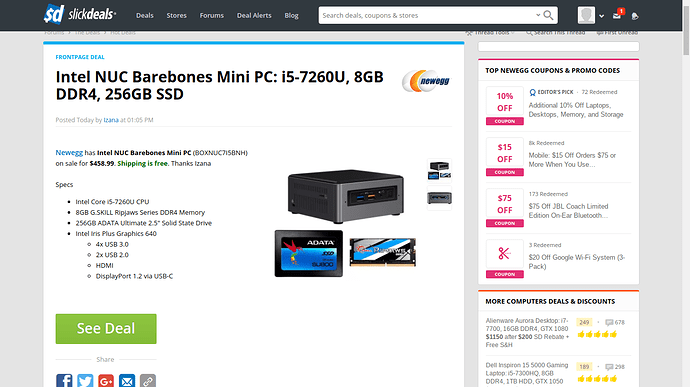 Its a good deal!. However it would be good for ROCK OS to sit on 256GB M.2 NVMe, instead of 2.5" 256GB right?
That way, 2.5" slot can be used for internal music albums - options are 1TB-2TB or more.
There is no point in using the internal slot If you have more than 2TB of music so I would not worry about that if that is the case.
I don't see any reference to the supported model NUC's and unless it is one of the NUC models supported by ROCK as per the KB post here then you might want to think twice as unsupported models are just that and could become obsoleted for ROCK at any point in time despite the fact they might work initially.
Not sure how you reached that conclusion. According to the KB post the entire line of 7th gen Core iX NUCs is fully supported.
Yes, it's the 6th generation i7 (Skull Canyon) that's not supported; 7th generation i7 (Kaby Lake) is supported.
My bad, you are correct, 7th Generation is supported, poor transcription skills on my part.
I think something like this the Mediasonic ProBox HF2-SU3S2 4 Bay 3.5" SATA HDD Enclosure – USB 3.0 & eSATA would work as an attached set of drives and the cost is less than a Nas and you could possibly even Daisy chain 2 of them although I don't know if this would work