Search is immensely improved.
thanks Brian. Maybe it's because Qobuz offers the visible buffering bar which is mentally reassuring, that I perceive better buffering with Qobuz

Point taken about the offline feature. Internet connection's getting better all the time, so it's becoming less and less important anyhow. Was just wondering.
Cheers!
Agree, Search is great. I love the way search results via streamers or local content are integrated seamlessly

Search is infinitely better! Thank you very much!!
I have ROCK on a NUC. Do I need to upgrade for 1.6?
I can not find any info if ROCK is also upgraded.
The Roon version on a ROCK NUC will also automatically upgrade itself. You can also force it by going to Settings, and clicking the "About" link top right.
The ROCK OS itself has not been upgraded. ROCK OS releases have their own thread in the Software Release category:
A dissapointing release for me personally. No improvements for the classical listner. I never really understood the interest for the radio function. Why would I want to listen to randomized music.
I don`t think I will renew my subscription when it runs out in a month.
What a terrific integration effort, particularly as you enable both Tidal and Qobuz to exist side by side, turning what could have been a difficult competitive effort into the question of "why not keep both?" as someone else said, given what we spend on audio equipment, the costs of Roon, Tidal, Qobuz and HQ Player are cheap. Also love the updated Roon radio.
Congratulations to the whole team for an effort well done and for not pre-releasing the news until the product was ready – a rarity in today's world.
I like the new DSP view. Looks far more interactive. I'm sure as I experiment more, more features will become visible. +1 Roon team.
No update available for iPad , cannot use Roon

Qobuz Integration
In My Qobuz - - Favorite Artists: Many Fotos are missing. The area is greyed out.
If there are no fotos available maybe you could put in pics of an album.
It is just a small cosmetical issue.
Just updated mine. Click on that appstore pic.
Ditto. Very well done. Congratulations. Very happy customer.
Love the Qobuz integration. Only missing the Grands Angles section (with the articles). Any plan to include it in the future @brian?
Can't wait to get home tonight to play with Radio
Download Roon Core first. It takes awhile. Once that is loaded try upgrading the tablet app. I'm up and running with version 390 on my Imac Roon Core & ipad tablet.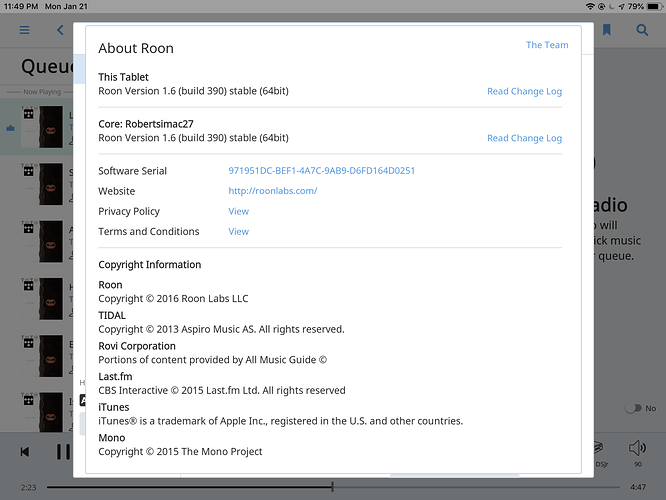 Not sure I should attempt to say much as it nears 2 am here in Memphis but I did upgrade ( went smoothly on all 4 devices that needed it ) and have been listening for a few minutes.
Using Google Home Hub as a display works much better but the periodic screen refresh flashes are still around and the text ( especially the two time fields ) is still too small. Big background image still appears to be cropped at the top but I've only played tracks from two albums so I've only seem two images. Lyrics ( when available ) seem to scroll smoothly and are easy to read.
** Edit ** Looks like I spoke too soon, my hub just stopped displaying Roon information and went back to displaying random pictures from my Google drive. I was not timing it but I'd guess it worked for 15-25 minutes.
Tim
Congratulations!!! Qobuz integration is what I and many others were waiting for! Great work!
Just connected with Qobuz and playing my first album :-).
In the queue view however I have the impression that the track info shows the info of the first track and doesn't get updated later on.
E.g. Haley Tuck, album 'Junk' composer stays the whole time: Leonard Cohen
I'm on Mac.
Something along the same lines. Lyrics do not scroll with the music.
This is not happening here. I am on a win 10 PC though.