I just updated my core to build 763 and now I can no longer connect using the remote app on my ipad. Connection fails repeatedly. Reinstall remote did not resolve. Without remote Roon is moot.
When I write "is not a replacement", I obviously mean "is not an adequate replacement offering comparable functionality". There IS a thread with quite many posts already, linked above, if people would just read it instead of repeating incorrect things. If the thread gets no attention from Roon, I will open a formal request yes. So far, they have been pretty good at paying attention to threads like this, so let's give it time.
I only replied to the incorrect statements that were made about this in this thread, and pointed to the dedicated thread for this topic.
Here my Update on build 763 for Smartphones:
Thanks that is a good work around until it is fixed.
Downloading 764 now, but it is very very slow, just less than 10KB/s.
also determines knowing and not knowing…
I don't think, I know.
Or:
I don't think I know.
Hmm, seems like this merits a semicolon.
Would love to the see the Tags elevated from the sub menus to the main view for easier access, it would save a couple of mouse clicks every time I try to edit the Tags of an album…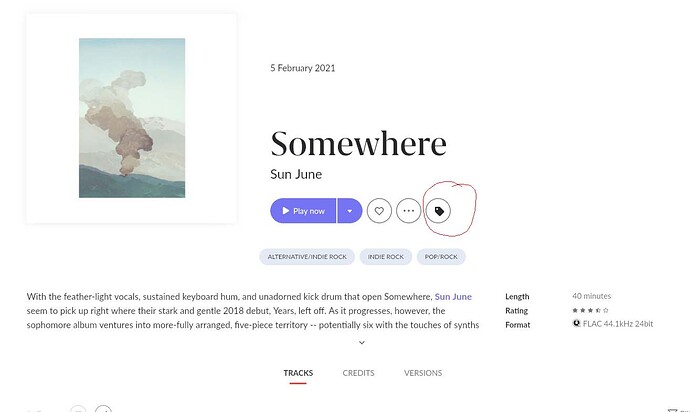 I'd go left field here and say that a dash (-) was the most appropriate and, dare I say it, modern piece of punctuation to use here; you know?
"I don't think - I know."
Has a nice ring about it

.
Oh I'm sorry. I know it only from Windows 10 and Android devices.
Does anybody know whether Roon is caching Artist and composer pictures for those round bubbles?
I am asking because my Album scrolling is now very smooth after the latest iOS updates. But on those Artist and Composer bubbles I still get quite a bit of stuttering going on.
Feels as if Roon loads these only on the go.
Latest Roon on Windows 10with latest update, keeps crashing. I have restarted computer, and after it starts - its hanging - and Not Responding.
I am unable to use Roon on Windows 10.

And when selecting 2 or more tracks, it would be better to show the big Edit button like it did top-right in 1.7.
In 1.8 you have to go to Edit within the main (…) menu and it is not at all obvious that you have to do this in order to edit all selected tracks.
(If you select several tracks and then go to the Edit option of one of the tracks instead, you will edit only this one track)
I put this in Feature Requests but it does include some feedback / suggestions regarding Focus in 1.8 so thought that I'd also reference it here.
Nice review here from TechHive.
The only change I am still struggling with is the significant reduction in the number of albums that are displayed on both my laptop and iPad Pro screens. Otherwise no issues.