Hi, one more again,
When playing tracks to a Linn Klimax DSM/3, Roon seems to doesn't know about current position & song: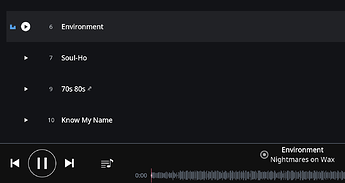 Starting track with play icon in album view.- Playhead stuck at 0:00 (not moving) while the track is playing, while "peak meters" indicator in playlist shows "playing" (and track is playing)
Positioning the playhead by clicking in the waveform display fixes it
After track is finished, next track of album is played, playhead starts moving but track title, duration on "now playing" etc. and "peak meaters" in album are not updated. – See gif:

This does not happen always, but quite frequently. Sometimes playlist even stops to play after the current track.
I have not seen it with Airplay and other devices, though I did not test tis extensively.
@support Any ideas? Thanks!
David
P. S. This might be related to Ronn Server not finding Linn after Linn power on?
Setup
192.168.0.1 (DHCP): Internet Provider's Modem+Router, Compal Broadband
192.168.0.122 (DHCP): Linksys EA7500 in Bridge Mode
192.168.0.9 (static IP): Synology with audio data, LAN connected to Compal Moden, Audio Data
192.168.0.234 (DHCP): MB Pro Mid 2014, High Sierra, Ethernet, roon core running, with Linn Klimax DSM+Linn Majik DS as renderers
192.168.0.213 (DHCP): 2nd MB Pro Mid 2014, High Sierra, WiFi, which I want to use as remote
192.168.0.59 (DHCP): Linn Klimax DSM/3 Software Version 4.66.255
Cheers,
David