Thank you very much for the explanation!
Now that roon is offering a monthly subscription, would you be able to provide some info on what benefits (if any) 'inviters' or new subscribers will get through the referral program?
Obviously with the annual method they would get an extra month free but I'm guessing that won't work with monthly. Would be a shame to see this gone though!
Hey @GoldenSound, the referral program is still live, but there are no rewards for referring monthly subscribers. You and the person you referred will only get an extra month if they opt for a yearly or lifetime subscription.
That's what I would have guessed, but thanks for clarifying.

One additional thing I'd wish Roon would consider is that if you are a lifetime subscriber (and maybe an annual subscriber), you could gift a lifetime license at a nominal discount.
Lifetime subscriptions are bad for Roon Labs given where the company is today. Danny has said so. You won't see them promoting the Lifetime option. If anything, they will eliminate it sometime in the near future.
It would be nice to be able to use your referral code to purchase 13 months for the price of 12 as a gift for a friend or family member.
Trying to refer a friend to ROON, and have gone to my account page, but can't seem to find where I'd do that. Appreciate any help with this, because I believe the program is still active.
I don't see that page either. But, I am a lifetimer so perhaps there isn't a way for a lifetime subscriber to use the referral link so I just send friends to the signup page.
IMHO, I think it would b great if a referral from a lifetimer could give a slight discount to the new subscriber even if there isn't anything that can be done for a lifetimer sending the referral. But better yet, send the lifetime referrer a Roon t-shirt… what better way to market Roon.
That should not be the case - I'm a lifetimer, and that screenshot is an extract of my accounts page.
Paging @accounts for you.
Just to check - you did scroll down? Not obvious on my tablet.
Yep, I'm accessing from a Safari browser on my iPad and it's just not there regardless of scrolling down. Using Chrome didn't help either. Using my iPhone didn't help either.
Got home yesterday and also tried accessing the referral page from Windows. Nope. Just not there.
Devialet just doesn't want me to refer anyone via their link. Was it something I said?
Here's all I see after I login to my account via https://roonlabs.com/account …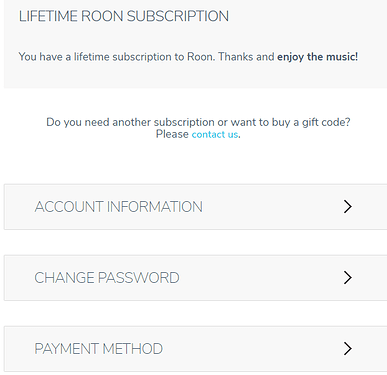 Hey @mdconnelly,
Thanks a whole lot for bringing this up, as it gives us the chance to help. Sorry about the trouble - you should be all set now! Could you please try navigating to your account page again?
Thanks @Geoff_Coupe for tagging our team

!
@beka - it's there now! Thanks for the assist. And thanks @Geoff_Coupe for the referral of my lack of referral ability

Hi @beka – I've got a referral credit "pending," but the referral in question was used and converted to an annual subscription a few weeks ago. How long does it normally take to go through?
I'm still wondering what lifetime members can get when they refer people?
Hey @Jesse,
Great question! You can find all the details here, but the bottom line is, the extra month is added 90 days after the yearly subscription was purchased. I believe there are 37 days left

.
That is a great question. My answer right now might not be so great…
.
As a lifetime subscriber, you can have your friends try Roon and get 1 month free when they subscribe. As for you, we're keeping track of all the referrals you've made. We're hoping it won't be long until we'll announce what's in it for you, lifetime subscribers.