It shows up on the second line when I search for "Train Robbery." Getting closer.

Searching for the album "Dirty Loops Turbo" produces kind-of-right results. But Turbo is the name of the album, and this is what I get: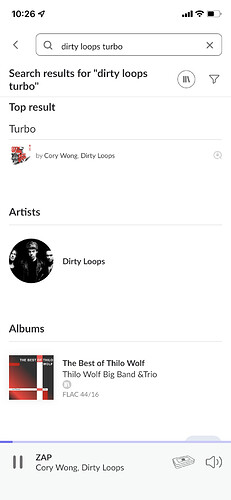 Why do I only see one album hit, I don't have the option to see more, and it's not the one I'm looking for?
The Thilo Wolf album is in my library, but it's not the one I was looking for.
Additionally, to go to the album I need to start a song from the album and then select "go to album". So many clicks…
Here is an example. I searched on "good night Irene" and got everything but (see capture). Searching on "goodnight irene" brings it up. So the way Roon is handing spaces is not SOTA. Searching on a standard search engine (DuckDuckGo or Google), either form brings up the song.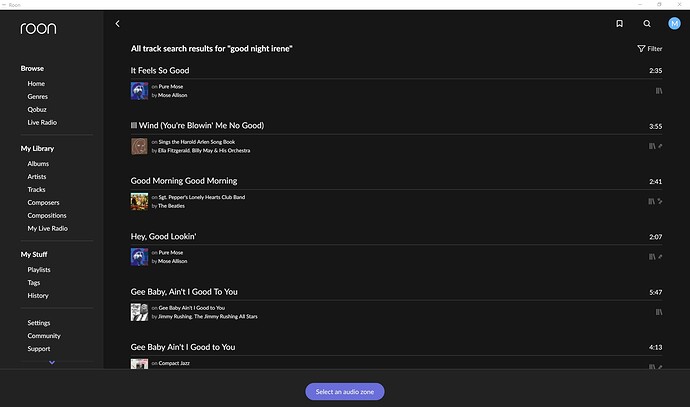 @mike - you asked for examples in Sept 2019 and said you were working on changes
This thread is over 2 years old and has almost 500 posts and hundreds of examples.
But search is still broken.
When do you expect it will be fixed?
We have a number of major improvements currently being tested for our next release.
There are additional search improvements on the roadmap that won't be done in time for the next release (like spelling corrections/typos) but I think the imminent changes will make a massive difference for some of the most egregious examples listed in this thread and elsewhere.
I know @zenit has been reading all the feedback, and if you read his posts you'll see that many parts of our search infrastructure have been completely rewritten from the ground up. The examples listed in this thread have been hugely helpful for us, so thanks for everyone's feedback and patience.
It's taken longer than we'd like, but that's not because it's been ignored or neglected – almost there folks!
For those of you paying close attention to this issue, go ahead and like this post

no promises but I'd like to give an early beta preview to people interested in providing additional search feedback once we're a little closer to shipping. Will check back then, thanks again all!
Feedback appreciates Mike.
There are two versions of the album "Elegant Evening" by Bill Evans on Qobuz. No matter how I search on Roon I cannot find it.
"Elegant Evening" fails, both in the search drop down and in the all results:

Similarly "Bill Evans Elegant Evening" fails

as does "Elegant Evening Bill Evans"

And searching Bill Evans discography for Elegant yields no results

Here's the Qobuz results:

Thanks for the update @mike - generally I get by with the search but it does have some odd behaviour.
I have Roon hosted on a dedicated MacBook air and I integrate with Qobuz.
An example, on my system. I have one album, 'Stakes & Chips' by The Roulettes in my library (my own copy).
If I use the correct case and search for "The Roulettes" and hit enter rather than selecting from suggestions I get the attached results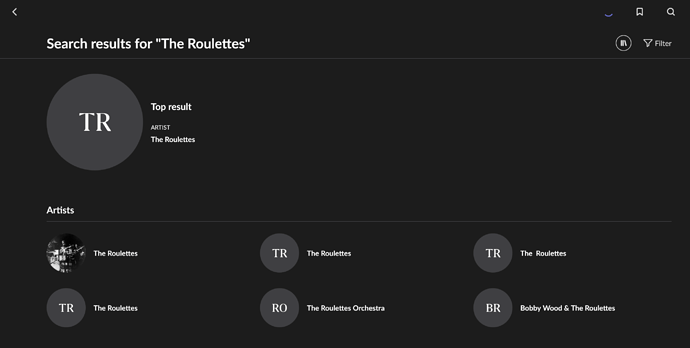 So one with the artist image and three without.
The top result yields this: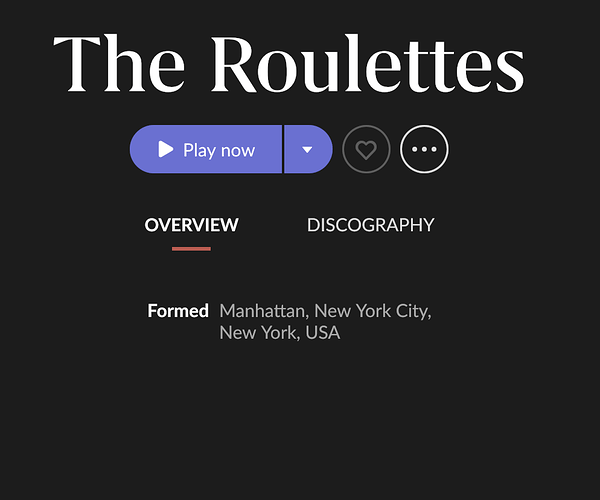 There is no detail in the overview except the reference to the band being founded in Manhatten and the discography is empty. This seems to refer to a Doowop quintet also known as The Singing Roulettes
The results under artists are as follows reading left to right row by row:
1 The UK band - shows the one album in my library plus 5 Qobuz results. Unfortunately the 5 Qobuz results are actually an Alternative Indie band called simply 'Roulettes' - whilst Roulettes appear in Qobuz there is no info
2 - Matches the top result above
3 - No overview no discography
4 - The UK band - doesn't show any info or my album but does show the correct albums that are available on Qobuz as well as appearances with Adam Faith which is again correct.
In fairness to all at Roon this does illustrate just how hard it is to deliver correct results - when the same artist name is used this is especially difficult.
There is a Roon error here and that is somehow not connecting to the correct artist in Qobuz - if the relationship had been based on the correct full band name I guess it should have worked
Bumping this one more time for anyone who would like to try out our new and improved search.
Like this post if you're interested in giving us some feedback and we'll do our best to get everyone beta access ahead of our next release. Thanks all!
I searched three times for Pauline Anna Strom, and it kept coming back with Kiki Dee😄. As soon as I searched the album name, I got what I wanted.
I'm getting an error on loaded page message a lot this week. And searching feels slower and glitchier for me since the update?
I am using a Roon Core Nucleus with Version 1.8 (build 831) with about 15,000 songs in library.
When I search using a specific song name, the list of results that come back might have one or two of the exact matches as the first result but the rest of them do not show up unless I click the "More" results button and then scroll to the middle of the list. This is true with both Albums and Tracks.
Example search "Days of Wine and Roses"
First result for albums and track is correct. The next results all contain the word "Days" but they are not the actual song or albums with that name.
In my library I have 9 albums with that title (or The Days of Wine and Roses) the 8 that did not show up in the top results were probably 50-58 of the results and they were clumped together.
The same issue happened when looking at individual tracks except that the top results did not even contain a single version of the song. In the results for that search they were not even clumped together but mixed in with everything that had "Days" in the title. I have 48 versions of Days of Wine and Roses and none of them showed up as top results. I tried to do the search using quotation marks and the results were the same.
I did a search within the search results and then it came back with results I would expect but I would not think I would have had to do. I have enough exact matches that I would not think I needed to be more specific. Am I missing a search setting or something obvious to get more accurate results within my own library?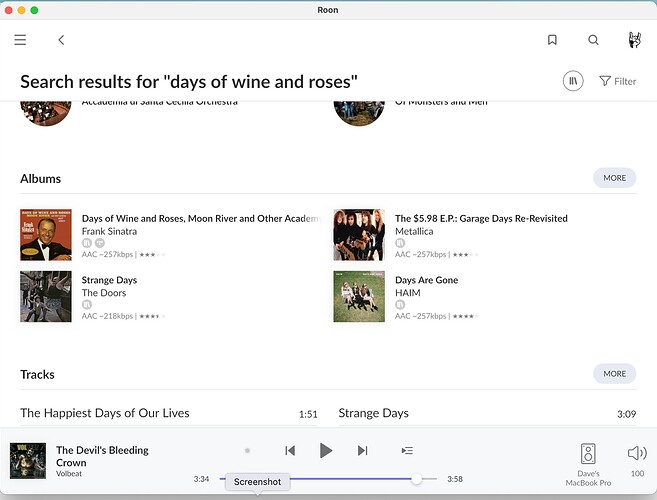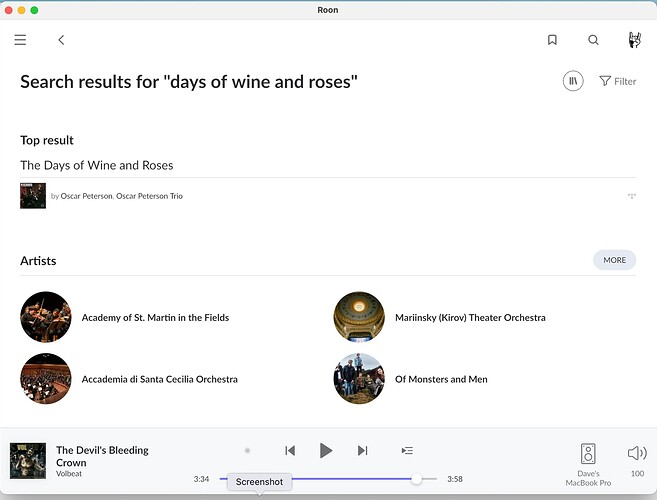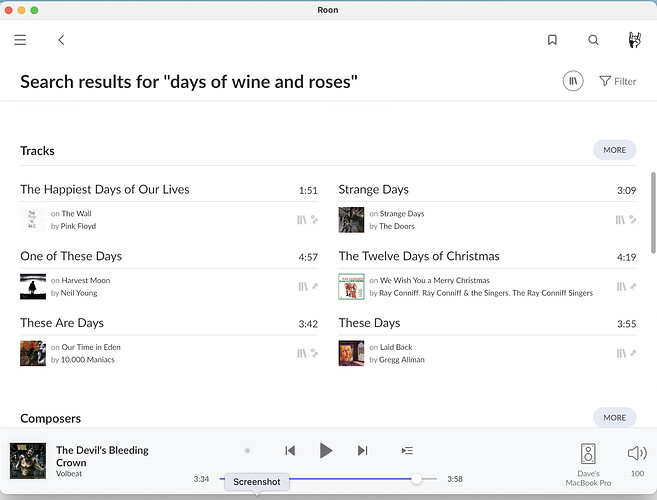 Is anything supposed to have changed / fixed recently? Roon search is currently simply useless. I was trying yesterday to find a Dvorak Serenade with the Nash Ensemble - no matter what permutations I tried in the search the correct result did not appear at all. I found what I was looking for first in Google and then browsed the whole discography of the Nash Ensemble (which is recognized as an artist) until I came across the right album after several pages scrolling.
I am afraid failure to address this search problem will be fatal for Roon
I just created a thread for issue with searching but didn't realized that so many other users are also having issue…
Been using Volumio and search is actually so much better on Volumio compared to Roon…
Will close that thread but below is what I have had;
===================
Have searched but wasn't able to find how to search for a particular music either on Tital, Qobuz
Say I want to search for "Bach Italian Concert BWV 971", which is not in my library, from Tidal but not Qobuz or my local NAS, is there way to do this? Sometimes I want to find this music played by a particular Pianist but I wasn't able to optimize search result.
If I do the same search from Tidal for example, I am getting exactly what i want as below;
But when you do this in Roon, I am getting music that is not even remotely close to what I am searching for?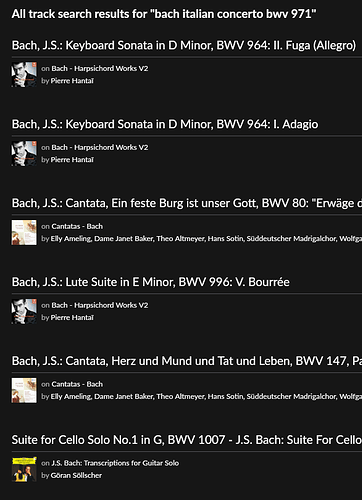 Sorry to compare but I am getting much better result on Volumio, which was what I have been using until I got Roon, I have 2 weeks to decide to go with lifetime or cancel… It is certainly better than Volumio especially with Classical music but yeah just few % short of perfect

below is Volumio search result;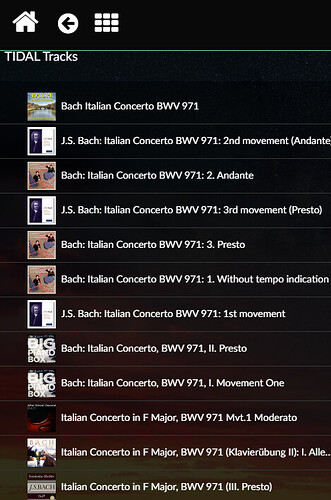 Do anyone have any tips on searching for music in Roon?
There are key combinations that will do all that for you. But next to impossible for most of us to remember, so unless you want to keep a cheat sheet around it isn't very useful. Or you could setup some hotkey combinations for them.
Google is your friend…
Not yet it's in beta and being tested by a bunch of regular users. There was open invites on this thread but I imagine it's closed for now.
Thanks I must have missed it. If some people from this thread are involved there might be hope.
But I agree with a previous comment that if it is indeed the case that there was no single person responsible for search assigned within Roon this would have been a grave mistake.
As long as it is recognized as such and corrective action (and resources) allocated to fixing it there is light at the end of the (loooong!) tunnel
As much as I love most things about Roon, it's becoming too annoying for me to use because of the difficulties searching for classical music. I know there are many other posts about this same topic, and I know Roon has responded that they are working on improving the situation (though it seems it's a long term problem). I'm not posting this to be polemical, and I don't even care if Roon responds. I did however want to add my voice to this topic in hopes search is fixed as soon as possible.
More examples may not be needed either, but I'd feel remiss if I didn't give one. I search for "Beethoven piano concertos". The first two results match, and the rest are either not by Beethoven or not piano concertos. Compare this with literally any other service - Qobuz, Tidal, Spotify, Apple Music - where there will be too many matching results to count. Even when searching for something as exact as possible, often it won't be found.
My only solution is to search in Qobuz and add it to my library. However for some reason there is a long lag between when I add it and when it shows up in my main Roon library. I can find it if I go through the Qobuz section, but this is a few steps.
I couldn't agree more with you on this. I have decided to go Roon path over Volumio, based on the fact that it is better suited for Classical music and searchability but at this moment, has been a disappointment…
Volumio, virtuoso membership, is actually much better if I only use predefined sets within Library, like Genre, Composer, Composition, but search function is very primitive. There are ton's to be improved, ie. Advanced search, search within given predefined grouping, ie. Genre, Composer, Artists, be able to search based on source, ie. NAS, Qobus or Tidal…