So, I kept thinking it was stuck at "running rescue scripts". First at stage 6, then at stage 10. Several minutes each. But it made it through…
so far works great as a Roon bridge as expected, but my other use case is LibreSpot, so I'm not really stretching its muscles yet. I'll try to get to trying it on UPNP later.
So far so good!
Just about to put on my Pi2AES. I've never had XL on that one before, but my kids always want to put Spotify on the main system, so let's give it a shot (when you're ready for LibreSpot, of course)!
Hi,
I've pushed out an update with the following changes;
fix output for the Hifiberry DAC2HD (@nickpi)
support for Librespot
disable USB output option when USB is deselected
Next thing first is some UI stuff: in the current RoPieee there's an indication if no hardware mixer is available for a specific HAT. For now I disabled that, because in the past I got a lot of questions about that message asking 'if something was wrong with their setup'. Which isn't of course, except that you can't select hardware volume control and you need to do with software volume control.
So I need to think about a solution in which the UI informs users about the absence of hardware volume control, without users thinking that this is some kind of error.
Anyways, enjoy!
Thanks Harry.
All I can confirm at this point is that pi4->SMSL M500 and Pi2AES → Yggdrasil work great for hours as Roon Bridge. Will update and let you know about LibreSpot.
Hi Harry,
no, still not found. Unfortunally, since you disabled ssh, I don't see anything.
It's shure not a hardware problem, since it worked with the stable version.
7369359e66cd0542
Hmmm… I'll switch back to the previous kernel. Clearly a case of 'too soon, too early'.
LibreSpot working just fine, put on a separate playlist on each of two devices and left for four hours. Put on a playlist and then synced both NGXL zones and left for an hour. All good so far.
One question @spockfish - there's really no reason for a user not to run XL assuming your device has sufficient resources, right? It's not like you're taxing the Pi because you have LibreSpot on it if you never activate it?
Ropieee is so lightweight it has always felt to me that you could collapse the branches and just have XL (only not call it that because there wouldn't be anything else), and a bunch of people would just never use anything but the RoonBridge capabilities. But maybe I'm missing some devices or use cases that you'd be unnecessarily leaving behind. Or maybe it offends the audiophile / tech credo to have any unnecessary code in the digital pathway. Just thought I'd ask.
I've pushed out another update.
One thing only: return to the 5.10 kernel for now. This should resolve your issue @Nickpi
One other funny thing… My Unifi threat detection is blocking something it's trying to do. I have it set very high, let me know if you want details on what it thinks is going on; all is working as expected however.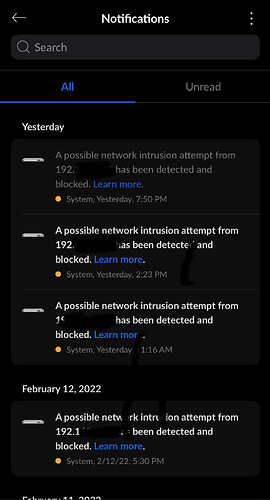 Technically you're right, especially with the NG stuff. But the reason why I made this choice is because the biggest group of RoPieee users is non-technical, Roon-only. And I feel strongly about keeping the initial RoPieee principles alive: an appliance that is as simple as possible. If you want to 'tinker' around there are other (and better) solutions out there.
But (and I have already been thinking about this but eventually decided to not do that for now) I can imagine that in a certain future there's only one version of RoPieee, that completely hides XL functionality, unless you flip a switch on the advanced tab.
So who knows

Thanks
Yes, it did.
Audio works with Roon, Squeezelite and Airplay.
UPnP gives an error with BubbleUpnp, Action Failed (Code 501), ditto with Mconnect. With Openhome Code 404.
Librespot not tested
ef80cba094fcb828
Librespot now working, thanks!
Does anyone know where to find the Librespot or Ropieee config file so that I can change the hostname format used by Librespot?
I was able to do this previously, eg. setting to appear in Spotify as "Kitchen" rather than "Kitchen [RoPieeeXL]"
If I just leave my existing XL install untouched while I wait for XL-NG, will I get updates as Roon build numbers go up? Or is the XL channel basically going to remain unchanged until NG is finished?
There is no upgrade scenario from current XL to 'NG' XL: when it is released you need to reflash.
There won't be another 'regular XL' release: all dev effort is focused on 'NG' XL.
Thanks
Hi
Not sure if this is a bug, or designed behaviour, but on my RopieeXL-NG endpoint, which is an Allo USBridge Sig with the Digione Sig HAT, UPnP.DLNA, Shairport Sync and Librespot all offer the choice of None or Software for volume control, but Squeezelite only offers Software.
Good catch, but that's not a bug. Squeezelite knows conceptually not a 'no volume control' option.
But you could argue that we need to provide the setting anyhow to not confuse users…
XL-NG on MiniStreamer/Stack/Streambox.
I'm using a Lakewest MiniStreamer, the predecessor to the Pro-Ject and Stack devices. Is XL-NG suitable for these units?
I'm not sure (I don't have this device), but it works on the Stack Link.
So I suggest you try it out