How I can install 2 SSD cards in a Nucleus?
If you can make it fit inside somehow then a "iitrust USB 3.0 to SATA Adapter Cable for 2.5" " from Amazon should work OK. There are unused USB3 ports inside a Nucleus. I presume they are not disabled in bios.
I drilled a second set of holes below the supplied drive holes on the "L" brackets about 3/8" to 1/2" below the original holes which gives you 1/8" of extra space between SSD Drives and below the lower drive for cooling. Use a file rasp to take off the drill shards in the new holes before reinstalling. The drill shards can short out your system so make sure your new holes are really clean before installing drives and the "L" brackets. Using a SATA to USB adapter and a 90 degree angular USB adapter bought on Amazon to plug in the second of two Micron Ion 8tb drives for a total storage of 16,000 albums. Each drive is separately identified, one as Internal Storage and the second as a USB device. No problems with accessing all the albums. I also added 4 Shakti On-Line Airs around and under (near the USB PORTS) the i-7 board which greatly improved sound quality as well as an Audioquest FMJ Jitterbug plugged into the second internal USB port using another 90 degree angular adapter (you get one right and one left facing 90 degree adapters in the Amazon package). I also use a second Audioquest FMJ Jitterbug on one of the external USB ports. I live 1/2 block from High Tension Power Lines so these tweaks do help the signal quality and therefore the sound clarity of my system.
Hi Chris,
Thanks for sharing this!
Bit of an ask but would it be possible for you to share some photos of your build?
Thanks so much
I only have one picture. If you need more I can open the unit up and take more detailed photos. Let me know you got this and if you need more photos. Chris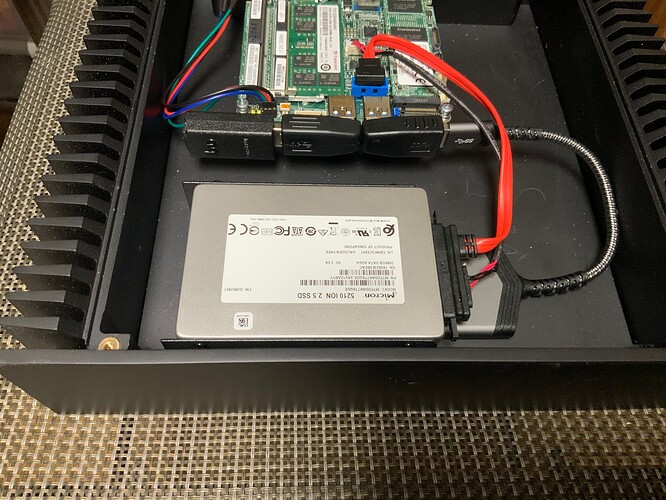 That's great Chris. Thanks so much.
Couple of quick questions if you would be so kind to answer them. Which sized screw did you use with the ssd and are you able to access the "external" drive via network?
Thanks again for the prompt response.
The typical hole in the side of a 2.5" HDD or SSD is for an M3 screw.
yes, it would appear in \\Nucleus\Data\Storage\DRIVE_ID_HERE
Hi Danny
Thanks for chiming in. I'll be performing this mod as 16tb ssds are not particularly affordable at the moment and there appears to be enough internal space for both drives.
Thanks to all who have contributed so far.
It's a standard screw for all types of drives. I stole mine from an older computer. I access my internal drives via the network and copy files from an external drive attached through one of the external USB connections on the back of the Nucleus+.
Success. Granted the second drive is at a slight angle and I am concerned about heat dissipation but I'm currently adding music from another computer to the second drive and the nucleus is watching the new drive and adding the music perfectly.
That's great! Let me know if you need any more information. Chris
I have just completed a similar mod successfully, thanks to your generous knowledge sharing Chris. I never would have figured this out by myself but your posts made it easy. I really appreciate you taking the time to write this up and post the pic. Now I have a nucleus plus rev b with 16TB of internal ssd storage!