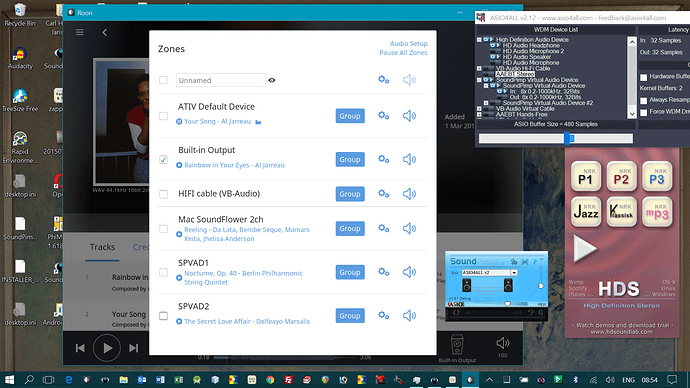 The audio selector system is looking very good, with zones and all that. Looking forward to use it in more advanced settings. I just report a few minor issues I found today:
SELECTOR NOT INSTANT
As can be seen in the first screenshot, music continues to play in the previous selected output (ATIV Default Device); the previous song "Your song". This output continues to play through its playlist.
At the same time, after selecting Built-in Output (on another pc, should have been given another name), the newly selected song "Rainbow in Your Eyes" plays on that output. It is the same playlist.
It looks as if this "lock" on the previous track played on the previous outlet is provoked when the track is playing as one does the change to a new outlet. If nothing is playing, then the change is accepted as one returns to the dashboard for playback.
IOW, there is no instant reset to the newly selected output. What we have done in SoundPimp is to create a "refresh" button that simply brute force resets the whole system when needed, because sometimes the instant changes hangs due to operating system problematics. However, instant change is the normal case via e.g. the Asio4All driver.
PROBABLY EXCLUSIVE MODE REGARDLESS?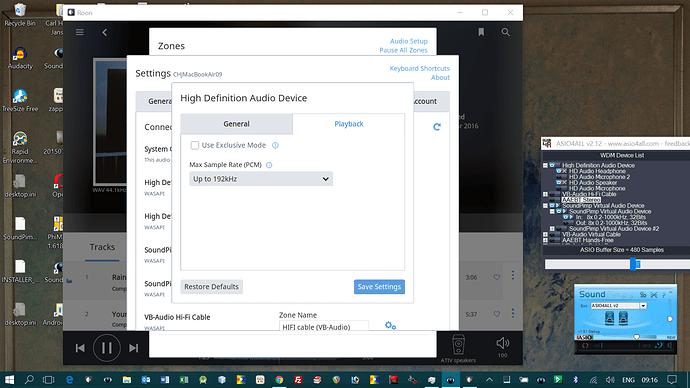 In the second screenshot, another issue. You see the non-exclusive selection of ATIV Speakers in Roon, causing the Asio4All selector ruled by SoundPimp to show that the same device (and the Headphone outlet) is now unavailable, i.e. the two red crosses.
This could be indicative of Roon running in exclusive mode despite this feature being unchecked. However, the other way around, starting other mediaplayers prior to starting Roon, then these outlets are selectable in the Asio4All panel. In this case, Roon may play to these outlets as well since the Asio4All is not running in exclusive mode here.
So it seems to be a partly exclusive mode defined in Roon. Correct?