Hi, i have a couple of issues / considerations about roon roles.
let's see this example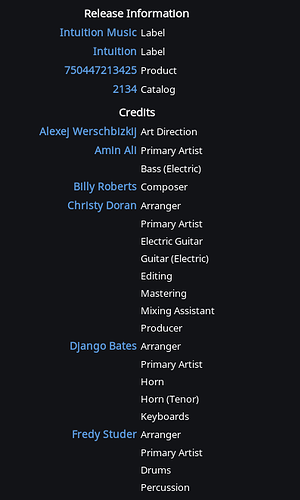 here the files are tagged according to roon rules. but as you see some roles are duplicated. that's because roon accepts different versions: for example "electric guitar" and "guitar (electric)". and similar for many instruments.
so, this clearly is not very nice…
i think roon should have some kind of roles equivalences.
then, another point is about roon roles: they are not exaustive, and i don't get the point in limit them. i think that, for those cases in which roon choices are not satisfying… one should have the possibility to prefer file tags… whatever they are.
so, this post could be under @support, @metadata_issues or @feature_requests…