Content you're reporting an issue with
Artist: Helloween
Album: Helloween (2021)
Have you made any edits to this content in Roon?
No
Is this content from local files, TIDAL, or Qobuz?
Tidal
Screenshot of import settings
N/A
Description of the issue
Before adding the album, Tidal version shows the correct album cover, but incorrect release date. After adding it from Tidal, it shows the correct release date but the album cover changes to something else.
Additionally, deleting an album from a streaming source is a separate issue, but happens for all albums (see below). After deletion, it's very difficult to get back to it as you simply cannot 'go back' to find it again.
Before: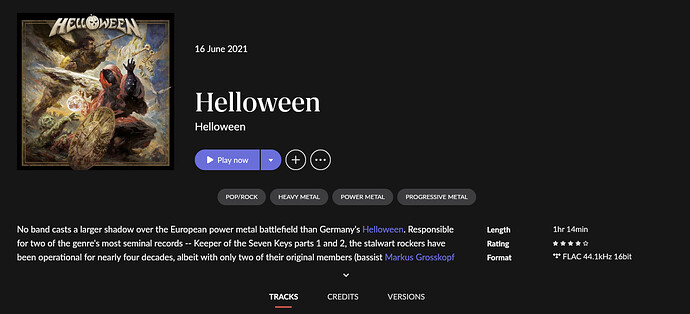 After:
Deleting (any album) saved from a streaming service: