(For those not familiar with the term, a "pot luck" is a party where each guest brings a food dish and we all share).
Wondering if anyone is interested in sharing some of their curation efforts? A good way to get to know each other and share some music.
Here is what I have in mind - something relatively simple that doesn't take too long to put together: each participant posts a screen cap of a group of albums that have some thematic connection. Explain the connection - could be anything from your tunes from summer 1990 to a genre-like connection. But dig deeper than "rock." Maybe you already have some tagged albums that fit the bill?
The idea is that we as users can then reassemble that album group in our own Roon and then listen as we choose - straight through, shuffle, etc.
"Rules":
—Between 20-30 albums, enough to shuffle and get a nice variety without taking a whole weekend to assemble;
—Can use Tags, a playlist, however you group. Participants can translate that into how they group.
—Make sure that a good portion are available on Tidal and/or Qobuz so that each participant has a good shot at reassembling most of the group. Not every album need be a streamer, indeed others may have that album locally and if we like the grouping perhaps those that are not available streaming would be good acquisition recommendations.
—Explain the grouping. Give it a title so that all the other participants can label it and find it in our Roon.
—Any genre!
Here is my first "dish," called Roots Punkers – albums from bands associated with 80s Punk or New Wave that played, or evolved towards, Roots music. So this is sort of a PowerPop-Roots hybrid: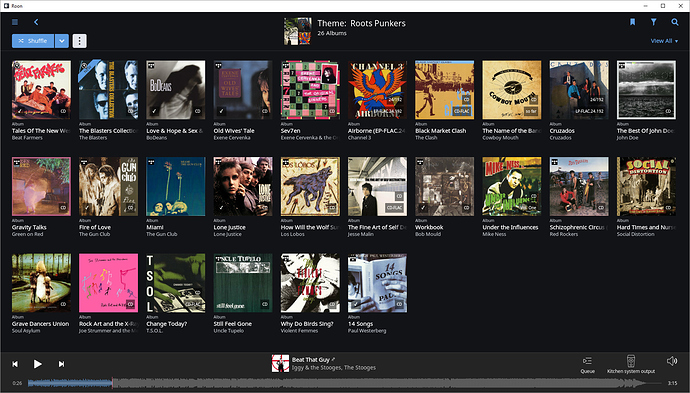 Enjoy!