Hi,
I am wondering about the term "also performed by" which is used for some tracks when it comes to classical music.
I first came across it today on the Jacqueline du Pre EMI collection. I have the album intentionally left unidentified, because there had been composition errors on the identified version.
I have set Jacqueline du Pré as Album Artist and have the Artist tag left blank based on recommendations from @joel . The Soloist tag is populated
Now what I see for a particular disc is the following: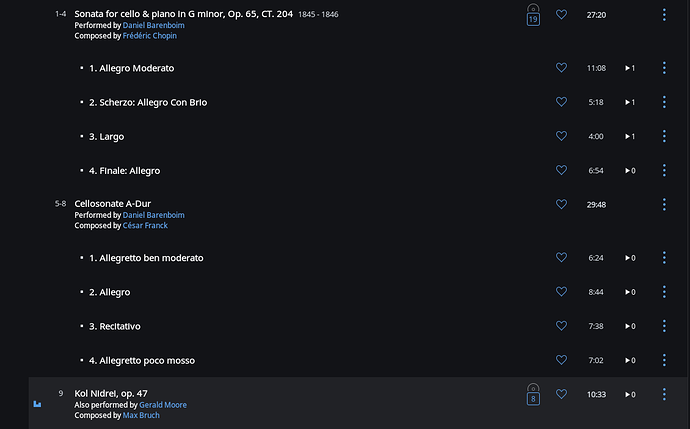 Although I understand the logic applied I'm not sure I like it that on work level Jacqueline du Pré is left out as soloist because she is already tagged as album artist. What I do not understand, however, is why on track 9 Gerald Moore is labeled as "also perfomed by" whereas Daniel Barenboim in the other works is labeled as "performed by"
The files are tagged with Soloists "Jacqueline du Pré; Daniel Barenboim" and Jacqueline du Pré; Gerald Moore", respectively. Why does Roon interpet this differently?
Anybody any idea?