dCS is pleased to announce that at Munich HIGH END we will launch dCS Mosaic, a powerful new music streaming platform for all current dCS streaming products.
dCS Mosaic is a bespoke collection of hardware and software modules which, when combined, provide listeners easy and intuitive access to their digital music. Streaming audio has been a core technology of dCS products since the release of Vivaldi, but Mosaic represents a leap forward in terms of functionality, performance, and user experience.
Mosaic represents a leap forward in terms of functionality, performance, and user experience. A key element of the product launch – and the one that will benefit every dCS customer – is the dCS Mosaic Control app. Conceived from the ground-up as a truly cross-platform solution, dCS Mosaic Control is a single, unified interface to any current dCS product using a mobile device running iOS or Android.
While the TIDAL streaming music service has long been available to dCS customers, dCS Mosaic will allow listeners to take advantage of the high-resolution offerings of Qobuz as well as the massive catalogue of CD-quality music offered by Deezer. The addition of a library of internet radio stations and podcasts from around the globe enhances the new service offerings with a wealth of content sure to please any listener.
· All owners of current dCS products (Vivaldi 2.0, Vivaldi One, Rossini, Bartók, and Network Bridge) can take advantage of the advancements of dCS Mosaic
· dCS Mosaic is available through a simple firmware update along with an app download from the App Store or the Google Play.
· dCS Mosaic 1.0 is available today (9th May 2019) at 9:00am GMT at no cost to existing customers and will begin shipping with new products at the same time.
· Attendees of the annual HIGH-END show in Munich (9th – 12th May) will have the opportunity to experience Mosaic first-hand in the dCS room (Atrium 4.2, room F209) and the dCS headphone listening stations (Hall 4, booth N09).
---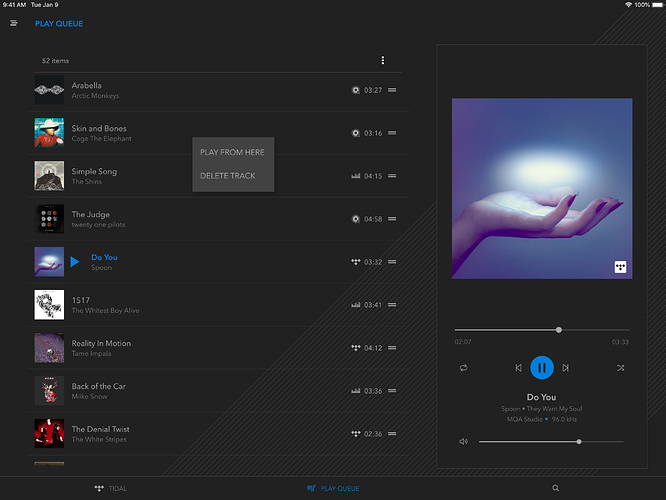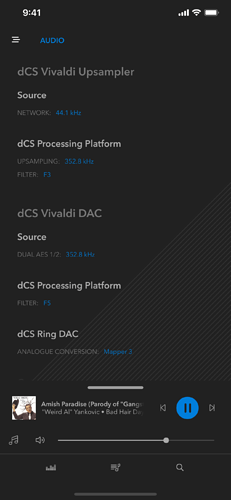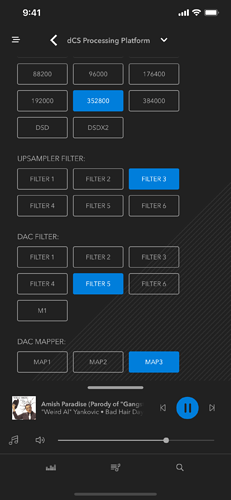 What is dCS Mosaic?
dCS Mosaic is a carefully assembled collection of hardware and software modules which, when combined, provide a listener easy and intuitive access to a vast catalogue of digital music. Whether it's high resolution files on the listener's own server or an internet radio station broadcast from a distant land, dCS Mosaic removes all of the associated technical complexity and ensures that the music one loves is only a few convenient taps away.
To familiarise you with the naming convention of the Mosaic components a brief description of each is included below.
| Component | Description |
| --- | --- |
| dCS Mosaic | dCS Mosaic is the product name for the audio streaming and networked control functionality of dCS products. |
| dCS Mosaic Control | dCS Mosaic Control is the name of the new dCS unified music management and control app. It supports both iOS and Android devices. |
| dCS Mosaic Processor | The dCS Mosaic Processor is the physical hardware component and associated software that is installed in the dCS product to provide streaming functionality. |
What does dCS Mosaic do?
dCS Mosaic is an extensive suite of technologies that work in unison to remove the complexities associated with multi-format and multi-source streaming audio. Key features include:
Browse a variety of streaming media sources via an intuitive interface in order to find digital music content.
Perform content searches based on artist, album, track, or playlist name.
Interact with advanced features provided by some streaming services such as favourites, playlists, and enhanced metadata.
Add tracks from any source to a unified playback queue which can be reordered at will.
View detailed information about the currently playing track including metadata, artwork, playback position and media format.
Perform basic playback functions such as play/pause, skip forward/back, shuffle, and repeat.
Conveniently manage the basic audio settings of a dCS device such as volume level, mute, and phase.
View and manage all settings related to the digital signal processing being performed by the dCS device.
View and manage the complete configuration of the dCS device.
Control all accessible dCS devices from the dCS Mosaic Control app.
Utilise Roon as a media management platform with Mosaic as a Roon Ready zone.
Cast content to dCS devices using Airplay and Spotify Connect.
Specifications
Supported dCS Products
dCS Mosaic Processor 1.0 is available as a firmware update and is supported on the following dCS products with the minimum firmware revisions listed.
| dCS Product | Minimum Firmware Revision |
| --- | --- |
| dCS Network Bridge | Main Board 1.02 |
| dCS Bartók | Main Board 1.00 |
| dCS Rossini | Main Board 2.00 |
| dCS Vivaldi One | CB: 1.11, FP: 1.10, IB: 1.10 |
| dCS Vivaldi Upsampler 2.0 | CB: 2.10, FP: 2.10, IB: 2.10 |
Supported Control Devices
The dCS Mosaic Control app is available for the following mobile devices.
| Mobile Device | Minimum Hardware | Minimum OS |
| --- | --- | --- |
| Apple iPhone | iPhone 5S | iOS 11.x |
| Apple iPod | iPod touch 6th Generation | iOS 11.x |
| Apple iPad | iPad Mini 2 | iOS 11.x |
| Android Phone | N/A | Android 6.x |
| Android Tablet | N/A | Android 6.x |
Supported Media Sources
dCS Mosaic is suite of tools designed to alleviate the complexity of digital audio streaming so a dCS customer can simply enjoy listening to music. In order to provide an uncompromising user experience, we have limited our official support to the following media sources detailed below. Other combinations of apps and sources may work, but they are not directly supported by dCS.
dCS Mosaic supports digital music streams from the following sources when the dCS device is controlled with the dCS Mosaic Control app:
UPnP (in conjunction with Minimserver)
USB storage attached to the dCS device
Deezer Hi-Fi
Qobuz
TIDAL
Internet radio
Podcasts
In addition to the above, the following streaming sources are supported without the use of the dCS Mosaic Control app:
Airplay
Spotify Connect
Roon
Supported Media Types
Files and media streams in the following formats are fully supported by dCS Mosaic:
| Stream Format | Stream Type |
| --- | --- |
| PCM (lossless) | WAV, AIFF, FLAC, ALAC |
| PCM (lossy) | MP3, AAC |
| DSD | DFF, DSF |
| MQA | FLAC with proper MQA tagging |
Specific Exclusions
The following features may have been available in past dCS streaming offerings but have been excluded from the first release of dCS Mosaic. The status of these features is detailed below.
Control of a dCS disc transport is not available in version 1.0 via dCS Mosaic Control. App control is still available using the legacy dCS app for your device.
Grid-based browsing is not available in Mosaic 1.0.
On-device stored playlists are not available via the dCS Mosaic app. Legacy playlist support is available via the legacy app.
Navigation bookmarks are not available in Mosaic 1.0.
Mosaic does not support TiVo / Rovi enhanced metadata.
Mosaic does not support OGG or WMA file formats.
Some of these features may be planned for future development and others will sunset with the retirement of the legacy dCS apps.
---
Want to know more?
You can find out more information on dCS Mosaic at our community forum site: